National Sports Ontario: $10 or 25% Discount!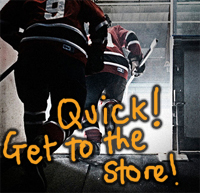 Yet another two-parter deal for you guys!
First up, you should know that the Canadian National Sports stores are having some Fmaily & Friend special shopping days in-store. This event will last for 3 days, between Friday the 27th of February and Sunday the 1st of March 2009. It says it is by invitation only, so you must print and present this discount coupon from National Sports Canada. Here's what you can get – either a further 10% discount off already reduced merchandise or 25% off their regular priced items
Secondly, I've got a free printable coupon for a $10 discount on a spend of $50 or more in-store. The small print is quite hard to read on it, but the important thing is that the free coupon expires on the 30th of April 2009.
Here's the National Sports store locator for you too.
These two offers are completely separate, and you won't be able to use them in the same transaction. If you're going to go in on the Family & Friends day, I'd recommend printing out both coupons. Then choose your items in-store, and see which coupon would work out to give you the most discounts!