Modcloth (US): 40% Off New Arrivals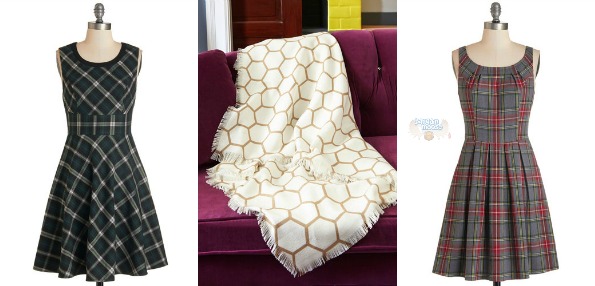 Receive 40% off dozens of new arrivals at the popular US store Modcloth.
I have never personally shopped at Modcloth before. However, I read a ton of blogs and many of those bloggers have modeled and reviewed clothing they bought at Modcloth. The business tends to be a fan favourite among the plus size and full-busted community, as well as those with retro tastes or pinup style.
Going back to school in September? This Backpack to the Future Bag in Midnight with match many different styles and works for both boys and girls. Canvas will take all the knocks, drags, and swings your daily journey dishes out while the unstructured design can be stuffed full of books, gym clothing, your tablet, and more. Originally $79.99, the bag is now on sale for $47.99.
The Keynote Taking Dress is the perfect back to school dress. The grey and red plaid dress will keep you cozy on a fall day with its flannel like texture. You will need a cardigan though, as the dress is sleeveless. The pleated A-line skirt is adorable and there are two hidden pockets for gum, erasers, or whatever else you need with you at all times. Sizes large and extra-large are already sold out (it is a popular dress), but extra small, small, and medium are still available. Originally $59.99, the dress is now on sale for $39.99.  The Savvy Scholar Dress is a good alternative if you need a large or an extra-large. It has an A-line circle skirt and features a primarily dark green plaid. Originally $69.99, the dress is on sale for $41.99.
For fall and winter, the Basically Amazing Socks are your legs' best friend. They come in several different colours including this pair in scarlet. Originally $13.99, they are on sale for $7.99.
Modcloth sells many things besides clothing as well. You can pick up essentials for the home or the dorm room while loading up on amazing clothing for college. Are you a cat lover? Try the That Suds it Up Soap Dispenser for $10.99, originally $17.99. Every time you pat the little white cat on the head, you will get soap instead of purring. Not a bad exchange.
Note that all prices are in U.S. funds and Mod Cloth does ship from the U.S., so you have the potential for duties. Shipping is based on the weight of your package.
(Expiry: Unknown)