Mishpish Canada Coupon Code: Exclusive 40% Discount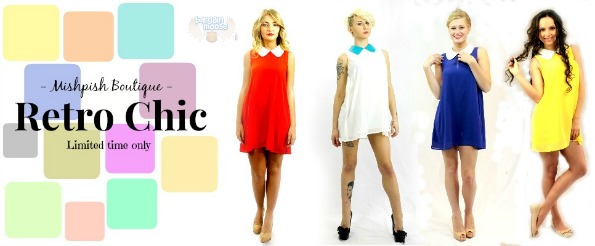 Mishpish Canada is a fun little boutique full of trendy clothing and funky accessories. I am really happy to share this Bargainmoose exclusive coupon code for 40% off anything on their website!
Click here to shop @ Mishpish Canada now
Coupon Code: BARGAINMOOSE40
Discount: 40% off
Expiry: 15th September 2014
You will not find this exclusive coupon code anywhere else. This is also the highest coupon code that Mishpish currently has released, so you are getting a real treat.
This has to be the most adorable dress ever. The Princess Double Breasted Button Dress is just so cute! I love the double row of buttons on the front and, while I am not a fan of pink, the contrast between the black lace and the pink 'overcoat' look is fantastic. You do not even have to buy it in pink; you can get it in royal blue, navy blue, or fuchsia as well. The princess dress retails for $52.99, but after coupon code it comes down to $31.79. Honestly, the dress looks like it costs much more than that.
It must be fall, because I cannot stop thinking about long-sleeve dresses. Both the princess dress above and the Long Sleeve Dress with a Hint of Plaid are perfect for fall days. The Hint of Plaid dress feels more casual, which means it may be more versatile in your wardrobe. It is made of 100% cotton and looks super cozy. If I had a hope of fitting the dress, I would buy this one. Originally $43.99, the dress comes down to $26.39 after coupon.
I cannot help but mention this rocking Lipstick Print Dress. The dress has everything a girl needs for a good time: lipstick, jewellery, chocolate, champagne, and roses. It should be called: the most romantic dress ever. This sleeveless retro number was only $28.99, and after coupon, it comes down to $17.39. Why are you not buying this?
Sizing
Okay. The one and only place I am disappointed with Mishpish is in their sizing. Most everything comes in small, medium or large OR small/medium and medium/large. However, on their size chart they list extra-large (which is awesome), but I cannot find any dresses in extra-large to even buy. I hope they expand their size range soon because I want pretty dresses too.
Shipping
Receive free shipping on orders of $75+, or else shipping is a flat rate of $8 across Canada.
For this and any future Mishpish coupon codes of awesomeness, check out our forum.