Military-Style Wool Jackets Up to 85% Off @ Amazon.ca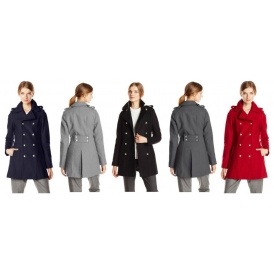 These Via Spiga Women's Military Coats are probably on super-sale because they are considered winter wear, but I have a similar wool coat that I use well into the spring and all the way through the fall. Available in five really great colours, this is a can't-beat-it addition to your all-season wardrobe.
Regularly priced at $365.00, they are on sale now for up to 85%, but you have to watch because the discount changes depending on what size and colour you select. The red coat—my favourite—in my size is selling for $54.75! If light grey is more your speed, you'll have to shell out $101.00 which is still a savings of $263.00 (72% 0ff).
There are a selection of other styles of Via Spiga coats on sale for up to 85% right now but they're warmer parka styles in limited sizes. Great deal if you want a fresh look to get you through the (hopefully) last few weeks of winter.