Men's Colorado Lite Down Jacket Was $200 | Now $60 & Free Shipping @ Adidas.ca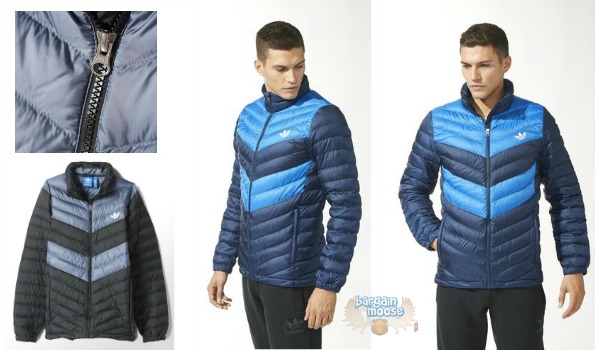 Adidas is having a nice winter clearance right now with most items up to 60%. Through some extra snooping,  I found this Men's Colorado Lite Down Jacket marked down 70% off the original price. This great men's jacket was $200 but is now only $60. This jacket will also ship free, as free shipping  is included with all purchases over $50. Yahoo!
I fully intended to go into this sale looking for a nice pair of running shoes or a track jacket. After all, Adidas is known for quality sports wear. This down filled jacket for men caught my eye with the striking bright but neutral colours. It looks like the person wearing it is about to hit the ski slopes and is ready to have some fun. This would be a great lighter weight jacket for outdoor winter sports when you need warmth without overheating.
This jacket is available in two colour patterns. A black and onyx version is available in all sizes from small all the way up to 2XL. A second navy and bluebird version is available in sizes large, extra-large and 2XL. The navy and bluebird I find particularly striking, even though I would normally pick a black option for versatility. I can see this guy heading off on a pair of skis, snow shoes or tobogganing down the hill with his friends or kids. Maybe this guy is huddled around a fire with his girlfriend sipping hot cocoa. Either way, this jacket seems like it is made for having winter fun. I do also notice this jacket looks better on the model then it does sitting by itself. The natural wrinkles in the fabric created by the many seams, seem to smooth out in a flattering way once it is wrapped around your body.
I took a quick look around, and it looks like the Adidas shop is the only place selling this jacket. Mountain Hardware has a lightweight jacket filled with down on sale right now for $151 @ Altitude Sports. There is a similar looking North Face down-filled jacket on sale @ Live Out There for $180. I think the Adidas jacket is a steal.
There were several positive reviews written about this jacket. The first reviewer is located in Calgary.
Great jacket, good up to -20 temperature. very comfortable and light weight.
This second reviewer is located in Montreal.
Lightweight, warm , sharp looking, only thing missing are some chest pockets to store items.
It seems that this cheery jacket is warm enough for Canada according to these reviewers. An extra storage pocket can be helpful, but I have noticed sometimes I forget to use an extra inside pocket when it is included. You should be able to fit a few basic essentials in the front pockets.
This Adidas jacket is on final clearance, so it will only last as long as they have stock. I would grab it now before your size gone.  Right now there is still a pretty good range of sizes to choose from. Since this down filled jacket is lighter in warmth, you can start wearing it a bit this spring when the weather is still questionable. This cheery and fun jacket should help you push off those winter blues. If you need another reason to purchase, shipping is free making this deal even sweeter.
(Expiry: Unknown)