Men's Adipure Hoodie Was $120 | Now $50 + Free Shipping @ Adidas.ca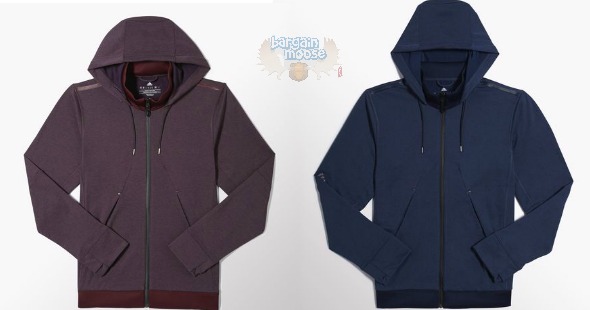 Gentleman, if you're looking for a new hoodie that is both great for training and stylish, then look no more. Adidas.ca has their Men's Adipure Hoodie on sale from $120 down to just $50. You'll even get free shipping.
The Men's Adipure Hoodie by Adidas looks like a basic hoodie, but it is so much more. This hoodie is designed for training. It looks like it would be made of neoprene, but it is actually made of a wool blend so you are more comfortable while wearing it. This hoodie is said to be worth the $120 it would normally cost, but thankfully you will only pay $50 while supplies last.
There are three colours to choose from, and most sizes are still available in each colour (except medium in red). The three colours are: Rich Blue, Earth Green and Red. I personally prefer the blue sweater - I find blue looks great on most men. My brother's birthday is coming up this weekend and if shipping was guaranteed to get here by then, I would order him one of these hoodies as a gift. The only down fall is that the red Men's Adipure Hoodie is the least expensive. Here are the prices for all three colours of this Men's Adipure Hoodie from Adidas.ca:
Red - $50
Rich Blue - $59.95
Earth Green - $60
This Men's Adipure Hoodie is great for running, or any sort of exercise really. The slim fit design will keep the sweater out of your way while you focus. There is nothing worse than a baggy sweater distracting you or getting in the way while you jog. This hoodie even has front pockets so you can quickly and easily access your iPod or other music device while you work out. The thumb holes will also prevent your sleeves from riding up while you jog.
One of the customer reviews says that while the AP line is great, the slim feet makes them smaller in sizing. This customer suggests that you order a size larger than normal. Adidas.ca also throws in free shipping when you spend over $50. That means you will get free shipping with this item, instead of paying their regular $4.50 shipping & handling fee.
(Expiry: Unknown)