Marks Work Wearhouse Sale – 20% Discount On Everything In Store!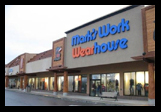 On Saturday the 29th November 2008, from 5pm until closing time, Mark's Work Warehouse is staging a Friends and Family night. In this offer, it appears to be a 20% discount store-wide. They do this kind of sale every so often, and it's a great opportunity to pick up some great deals on mark's workwear. Some stores open until 11pm, but just check the opening times before you bank on that.
Katie over on urbanmoms says that Marks has a great range of winter accessories, hats, gloves, scarves, at great prices, so definitely worth checking out.
Write the date in your diary, check put the location of your nearest Mark's Work Wearhouse store, and get shopping!
(I'm bumping up this post which I published earlier, as this sale starts tomorrow)