Lululemon Canada: All You Need Shorts were $58 now $29 & Free Shipping!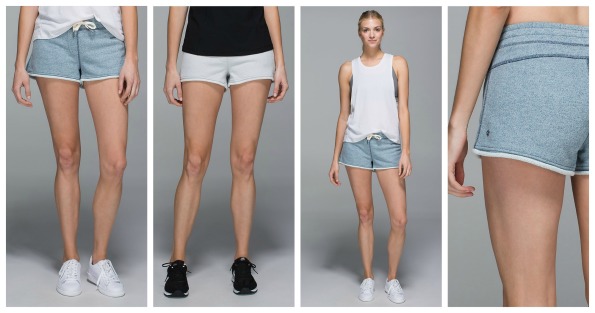 I love when Lululemon.com adds new items to their "We've Made Too Much" section. My wallet should probably run and hide from me, but right now you can get the All You Need Shorts on sale from $58 down to $29. Though, if you are in public then I don't think these shorts would be entirely all you need. Either way, these shorts are a fab price and they even have totally free shipping since Lululemon Canada is cool like that.
The Lululemon All You Need Shorts would be great for working out, lounging around at home or even just to wear out when the warmer weather arrives. We can be optimistic, right? These shorts are currently 50% off which is a pretty hefty discount for Lululemon apparel. I imagine that these All You Need Shorts are going to sell out fast.
These Lululemon shorts come in two colours: heathered poseidon and heathered silver spoon. As I am typing this, size 6 sold out in heathered silver spoon. Here are the sizes currently available in the two colours.
Heathered silver spoon: 4, 8, and 10
Heathered Poseidon:  6, 8 and 10
Lululemon Canada designed these shorts with the intention of them being easy to slip on and easy to unwind in. Similar to our favourite pair of sweatpants, only much shorter and cooler to wear post-workout. They are a blended cotton terry fabric which is basically one of the most naturally breathable fabrics out there. They even have an inner waistband pocket if you need to use it. I might even snag these shorts in each colour is my size lasts long enough for me to do so. These shorts even have pretty excellent reviews on the Lululemon Canada website. Here is one review for you to read:
Love these for summer. I found they run a bit big in the waist and the leg holes. I bought my usual 6 even though I just had a baby 6 weeks ago. I'm a few pounds heavier than usual and they fit perfectly right now. They will be great to pull over a pair of boogie shorts post yoga or over a bikini bottom when I'm back to my usual size. Super comfortable for a casual summer day.
Lululemon.com offers totally free shipping with no minimum purchase on any and all orders. That means you can order as much or as little as you like and you won't have to worry about any additional costs. That is definitely a sweetener to this deal, don't you think?
Moosers, are these shorts all you need?
(Expiry: Unknown)