Lucky Brand Women's Jeans Up to 70% @ Amazon.ca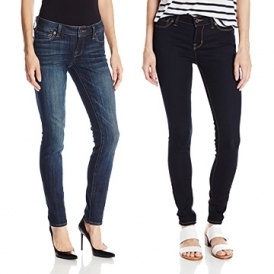 Lucky Brand is one of my personal go-tos for denim, especially the legging style, which are soft with just the right stretch and kind of feel like wearing sweats but look like wearing jeans. Perfect, right? Good news if you love them too, or if you've been looking for a new brand to try, but shied away from these due to price. Several styles of Lucky Brand women's jeans are on sale today for 70% off.
Here are a few styles of Lucky Brand that I have tried, or wouldn't mind trying, knowing how much I like the fit and fabric of the styles I own:
Lolita Skinny Jean—I like this wash and love a skinny style (as long as it's a good fit) and these are only $35.70, regular $119. Good for an everyday pair, but could also be dressed up for a night out
Brooke Legging in Rinse—these are the legging jeans that I love! Available in several different rinses today but this super dark is one I can't live without. Just $29.70!
Easy Rider in Tanzanite—I'm a die-hard skinny jean lady, but there are just some days when you need a more relaxed fit. Haven't tried this cut before but at 70% and just $26.85, now may be the time!
There are also other brands on sale today, including Mavi and Joe and not just for women, but means styles too.
Shipping and returns are free, so if you're shy about buying jeans online just know that you can send them back if they don't work out as planned.
What's your go-to brand of jeans?
(Expiry: Unknown)