Lucky Brand Jeans Additional 20% Off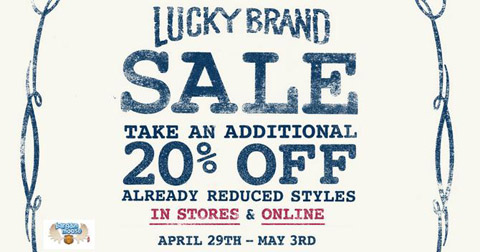 From 29th April 2010 until 3rd May 2010, take an extra 20% off already reduced items, in-store at Lucky Brand Jeans Canada.
Lucky Brand Jeans is having an extra 20% off sale on all reduced styles between April 29th and May 3rd. Their sale tees start at $19.99 and jeans start at $49.99. Remember if you are considering shopping online that the prices are American, and they would ship from America. If you want to but have never bought Lucky Brand jeans before, try shopping in stores at their locations in Canada and trying them on first. Jeans sizes vary by brands and even sometimes within brands. These are good quality jeans, but make sure they fit you.