Laura Canada: Up To 80% Off Clearance Sale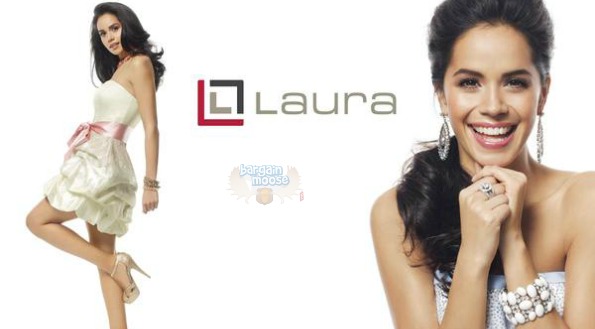 Laura Canada is having a massive clearance sale both online and in stores with up to 80% off original prices.
I was finding amazing prices all over the place, but sizing is very limited. If you want to shop this sale and come away with some stellar deals, then you are going to need a little patience with finding your size amongst all the clearance goodies.
One of the first items I spotted in the sale was the Elastic Waist Pocket Detail Pencil Skirt that was $110 and is now on sale for $19.99. This is the perfect business skirt that you will positively wear to death. At 81% off the original price, it will also keep your money exactly where it should be: in your wallet (or bank account). The skirt is available in sizes 14 and 18. I did find another skirt in a size 16, the Stitched Detail Stretch Pencil Skirt. It is also on sale for $19.99, originally $110.
In the shirt section, I found several deals to whet your appetite. The Conrad C Placement Print T-Shirt was $75 (I think that is somewhat overpriced to begin with), and is now on sale for $11.99. It is a simple white t-shirt with a fun blue graphic to match your jeans or shorts. Among the tops, I found the simple elegance of this Sweetheart Neck Knit Top to be a lovely addition to a woman's wardrobe basics. There are still sizes to choose from in the green and in the white. Originally $75, the shirt is now on sale for $15.99.
If you are in the market for accessories, Laura has them starting at just $2.99. This Hammered Double Chain Link Necklace was $24 and is now discounted to $4.99. It is an inexpensive way to accessorize your wardrobe and, if you are like me, bring some colour to your usually black ensemble. Pair it with this Open Linked Hinge Bangle Bracelet and you only need a pair of discreet earrings to complete your outfit. The bracelet was $25 and is now $5.99.
If you have the Laura Privilege Card, then you will get an extra 10% off both regular priced and sale items like these tops. The Privilege Card costs $35 for your first year with an annual renewal of $20, so I would only buy it if you shop at Laura Canada a lot.
Shipping costs a flat rate of $7.95, so you might want to stock up on these amazing sale prices.
(Expiry: Unknown)