Karmaloop (US) Coupon Codes up to 20% Off & $8 Off Shipping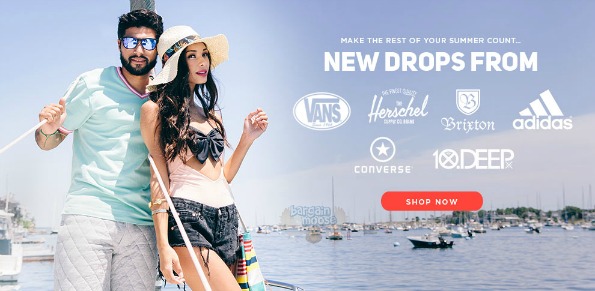 Karmaloop is one of the best fashion haven websites in the USA. Currently they are having up to and over 75% off a ton of clothing, shoes, accessories, and more. They also have the following two coupon codes to stack on top of the sales section for phenomenal savings.
Click here to shop @ Karmaloop.com now
Coupon Code: STAYCHILL20
Discount: 20% off $200+; 15% off $100; 10% off $75
Coupon Code: SMRSAVE
Discount: $50 off $200+ of sale items
Both coupon codes also take $8 off the cost of international shipping. I added four items to a cart and used one of these coupon codes. My shipping total became $1.90 with a handling fee of $2.25.
The first coupon works on regular price and sale items whereas the second coupon is restricted to sale items only. As for the sale, you will want to click on the 75% off tab and sort by highest savings to get the best deals. Here are a bunch of deals you don't want to miss out on:
These items are all in limited sizes. However, they are all around 90% off their original retail price so they are worth checkout out to see if they match your style and are in your size. My favourite is the *MKL Collective Run Ragged Top I mentioned last. I usually don't do crop tops but the purple/black combo on this one is beautiful. The mesh black on both the front and back gives me goosebumps: I love it so much. Thankfully, this top is still in stock in sizes small, medium, and large.
All prices at Karmaloop are in US dollars. Last time I placed a Karmaloop order, I was hit with COD charges, which I am assuming are to cover duty. However, the top I bought was actually made in the USA so I am currently fighting them to get my money back. Be aware that you may be hit with duty if you buy from Karmaloop. On the positive side, the discounts are so crazy you will still save lots of money. On the downside, they could charge you duty on stuff they shouldn't so go over your invoice.