Joe Fresh Canada: Women's Square Fit Jacket Was $130 | Now $19 + Shipping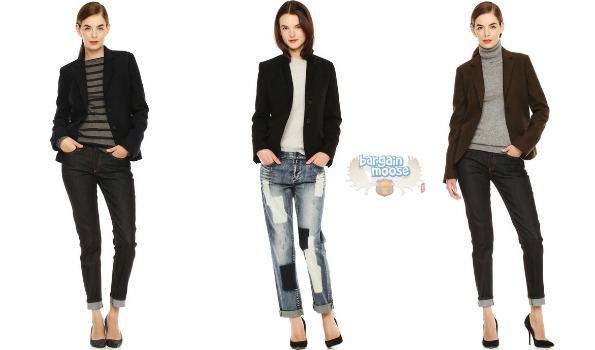 Joe Fresh has a fantastic deal on a ladies jacket right now. Regularly $129, get the square fit jacket, with three colour choices, for only $18.94. It is on sale for $19.94, but use the mooseclusive coupon code MOOSELOVE to get another $1 off.
The square fit jacket is the perfect jacket to update and dress up your wardrobe. The model is wearing it with jeans, but it is a blazer type jacket that can be worn with a skirt or dress pants as well. I like that it isn't too short either, as it makes its way halfway down the backside rather than sitting at the waist.
Because I work from home, I usually wear something comfortable, but every now and then I have a work event to attend. Adding something like this to my closet will give me some options for jackets with my other mix and match pieces. Considering I'm saving over $100, I might consider one of each colour. If I do, I will save the $8 flat rate shipping fee that I'd have to pay if I don't spend $50.
Various sizes are available in each colour: size 2 in the black, sizes 2, 4 and 8 in the dark olive, and sizes 2 and 4 in the navy. You are out of luck on this deal if you are any larger than an 8.
Another option to save that fee is to see what other items I can get on sale and add the Moose coupon to. I love Joe Fresh for my kid's clothing and I found some great options for them as well. I think this boy's colour block vest is a solid deal, regularly $24, on sale for $11.94, with a total of $11.34 after coupon. I love vests as a good option for spring and fall, but it seems like such a short time that you get to wear them, so paying around $10 for one is fantastic. Large and extra-large are both available. My 9-year-old is now in a large if that gives you a sense of sizes.
For the girls, this girl's faux fur snow jacket is unique and for the girl who likes her swagger. Regularly $49, you'll get it for $23.69.
(Expiry: 5th March 2015)