Jacob Canada: Snake-Print Tie-Waist Crossover T-Shirt - Just $18 (Reg. $50)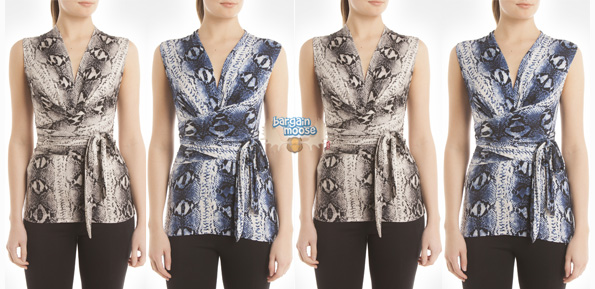 Looking for a fabulous new shirt for work? Then get the snake-print tie-waist crossover on sale for just $18 (reg. $49.90) at Jacob Canada.
I love shopping but I have to admit that I'm one of those that gets easily discouraged at the prices. Paying more than $30 for a simple top simply isn't appealing to me. I actually spotted this shirt when browsing through their selection of regularly-priced shirts discounted by 30%. In fact, if you sort those tops by "price: lowest to highest", then you will also find plenty of other great picks for as low as $13. Keep in mind that not all sizes are available but it's still definitely worth a look. I particularly like the simple draped t-shirt on sale for $13 (reg. $29.90), for instance, but it's only available in small or medium. As its name indicates, it is indeed simple, but even simple can go a long way, especially at that price and if you add a couple of pop-worthy accessories!
To get back to the snake-print top though: it features a crossover design and is available in either dark blue or grey. Personally, I really like the dark grey option because it would easily pair well with just about anything.
For an office look, you could wear it with a white jacket like the three-button blazer from the same sale that Avi wrote about recently. Only available in a medium size right, it's on sale for just $18 instead of its regular price of $99! Because a snake print is such a busy pattern, pairing it with a solid-coloured jacket would really make it (and you!) stand out. Plus, this top could most certainly be worn on its own as well this summer, especially for those of you who regularly commute to and back from work in the too hot for comfort bus and subway systems.
Be sure to avoid the $9 shipping fee by shopping for over $100, at which point your order will automatically qualify for free shipping.
(Expiry: Unknown)