Jack Of All Trades Canada Promo Code For $8 T-Shirts (Reg. $22)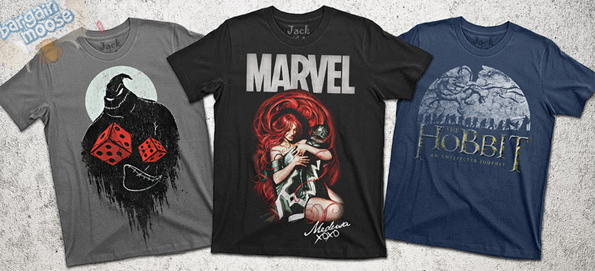 Come all, come quick, Jack of All Trades tees can be yours for just $8 instead of their regular price of $22 -- that's close to 64% off!
Click here to shop @ JackOfAllTradesClothing.com now
Coupon Code: 8BUCKS
Discount: 64% off tees
Expiry: 1st September 2014
For the most part, Jack of All Trades Clothing coupon codes usually come in the form of up to a 25% discount on select t-shirts. Back in July, they had a $10 t-shirt promo but even then, this promotion is definitely one of the best ones in a while, given the high discount and the selection of popular tees to choose from. Take this women's batman t-shirt: it's black and features the batman yellow and black logo on the front. Do keep in mind, however, that women's Jack of All Trades t-shirts tend to be very fitted, so if you prefer a looser one, then I would suggest a men's t-shirt instead. A couple of good friends of mine actually do that and it looks just as great!
A couple of months ago, I assembled a Daddy emergency kit to give to my hubby during our baby shower and seeing as though he is a huge Habs fan, I included the superman team color t-shirt. At the time, I paid the full price of $22 as I was shopping at the last minute. Given that the Habs are the best team in the league (okay, my hubby's fanaticism may have rubbed off on me ever so slightly), this would be a wonderful t-shirt to get as it combines the best of both worlds: the superhero one with Canada's favourite sport. They also have superman t-shirts in honour of the Vancouver Canucks and the Boston Bruins, though given the Canadiens' intense rivalry, I wouldn't recommend the former one! ;)
Overall, there is a total of 50 t-shirts to choose from and even a couple of junior ones like the Angry Birds, Marvel Kawaii Captain American and the Minnie Mouse chalk t-shirts. For any of you Judge Dredd fans, there are even a couple of very cool-looking executioner t-shirts like the Apocalypse War one or the Skull Crush.
Shipping is at a flat rate of $5 per order. Alternatively, or if you happen to miss the above promo, you can also use our Bargainmoose exclusive Jack of All Trades coupon code to save 25% off raglan and football t-shirts.