Ice Jerseys Canada: 50% Off Sauce Hockey Wear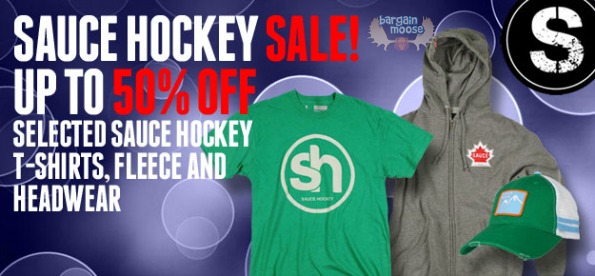 If you want some Sauce, you've got it! Ice Jerseys is having a sale with 50% off select hockey t-shirts, fleece and headwear from Sauce.
I've never heard of the brand Sauce, but I don't really follow hockey. I do really like the styles of their t-shirts and hats, and might pick myself up a few for next year when I may officially become a hockey Mom. Although this Daddy's Girl women's burnout t-shirt is made for the lady who grew up with older brothers and was immersed in hockey, I think it is totally cute. I did grow up with a dad and brother obsessed with hockey, so I can still wear it with pride, especially at only $18, was $35.
As I've blogged before, there is just something about a man in a hat, and if that hat is unique and sexy like this Dubliner Hat, all the better. My husband would totally rock this piece and I would let him. I mean seriously, hot! Was $30, now $18.
This tailor full zip hoody is a steal at only $49, was $70 and the bright red will tell everyone you are here to make a scene.
Just because I like making good deals even better, don't forget to add the $10 off $100 coupon code, located in our lovely forum.
When you spend $85, you'll also get free shipping.
(Expiry: Unknown)