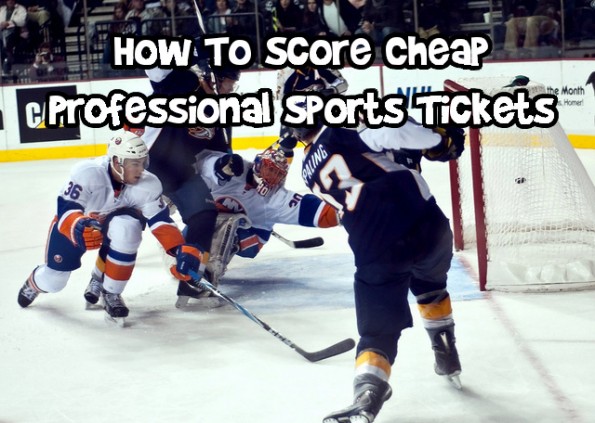 NBA and NHL playoff seasons are upon us, and it is my family's favourite time of the year, especially when our favourite teams are in the finals, which unfortunately is not the case this year.  If the Senators and the Raptors had been in the playoffs, we would have had a very happy house!   My girls happily watch sports with their dad throughout the year; it's a fun way to spend time together.   We're looking forward to being able to take the girls to some live games eventually.   Although I'd love to be able to go to an NHL playoff game this year, it's financially impractical for us.  One of the closest professional sports teams is the Toronto Maple Leafs, but according to Forbes, their tickets are the most expensive in the NHL, averaging $368.60 per ticket!  Tickets to the Leafs are out, but what are some other, less-expensive ticket options for us?
Book in advance or at the last minute
Next year we are taking the kids to Orlando, Florida, and it would be a perfect time to take the entire family to an Orlando Magic game.   According to SeatGeek, the average cost of a ticket to a game is $56 per person.  To be honest, this is too expensive for our family, as my children will still be very small when we go (they will be 5 and 7), and I doubt they will appreciate the game to the extent we would so we need to look for some cheaper ticket options.  As we are planning our trip almost ten months in advance, we have lots of time to look around for the best tickets prices.  Given that we're not married to the idea of attending a game, we also have the flexibility to wait until the last minute to see if we can get a good deal.  TickPick is an online auction which sells tickets to many professional sporting events.   If you sign up to their ticket blog, you can get a small discount if you buy your tickets through them.  Last minute tickets will likely be etickets or deals which require local pickup, and since we will have a car for our trip, this will not be a problem for us.  We will keep an eye on all the deals and determine which tickets to purchase before our trip.
Buy tickets direct from the sports club
Another option for cheaper tickets is to subscribe to the team's fan page, facebook page and other social media outlets.  The Orlando Magic's official website has theme nights and promotional offers that run through the year, and they also have ongoing partner promotions where you can win prizes including tickets to a game.  I will definitely subscribe to this website in advance of our trip and hope that we win tickets before our trip.  Free is a much better price than $56 per ticket!
Check out the junior leagues
Obviously, the pace and quality of junior league games is not of the same caliber as most professional games, but they still provide fantastic entertainment usually at a very reasonable price.  The Canadian Hockey League is a great example of top quality hockey played in local city centres at a reasonable cost.  According to NHL, over half (50.6%) of players drafted to the NHL have played hockey in the CHL.  We have an OHL team in my hometown, and we have been to a number of games throughout the years. Oftentimes the company I work for will rent a box, and employees are able to purchase discounted tickets to the game.  The company throws in snacks in addition to part of the ticket cost, and I am able to enjoy an awesome night of hockey for practically free.   If there is a sports team close to you, and your employer has a social committee, take a few minutes to recommend this as an option for a social event.
Pre-season games
Last year my husband and I attended a pre-season game at our local arena, which was super fun.   Although the game didn't have all the players participating, it was a fun (and cheap!) way to see our favourite team play professional hockey. Additionally, because the game was local, we were able to save money on travel expenses to the game.  The tickets were also extremely reasonably priced, at around $25 per ticket.  There were also some local promotional codes available that some of my friends who work in the health care industry were able to take advantage of.
The thrill of seeing a professional sports team in person is simply amazing.  Even if you don't like sports per se, the experience of being in a large arena with many people cheering is intoxicating, and rooting for your team is a ton of fun, assuming that people around you are good sports about it!
Bargainmoosers, how do you score good prices on professional sporting events?
Photo credit: Paul Nicholson