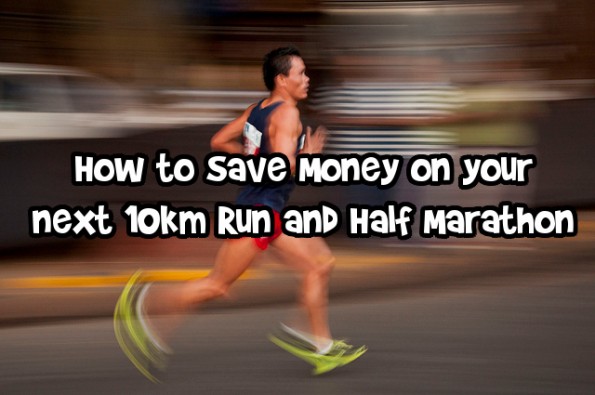 Either I am noticing that people all around me (including myself) are getting involved in running, or people are just getting involved in running, period.  Running races is a great way to feel a sense of accomplishment and to achieve your goals especially if your New Year's Resolution was to run a half marathon or a 10km run.  However, whoever said running is a relatively frugal fitness activity isn't entirely accurate.  I think that running can get very expensive especially with gear (such as shoes, rain gear especially if you live on the west coast, running hats, running paraphernalia, running magazines, running clubs, etc., the list can go on).
I have signed up to run my first half marathon and so far my costs have roughly been manageable.
Waterproof Running Jacket $160
Running Cap $10
Long sleeve running shirt $25
Running pants $55
Running Shoes $130
Registration for Race $100
The total cost is just under $500 for about 4 months of training, which is approximately $120 a month.  A bit expensive compared to at home yoga or the gym in your neighbourhood!  However most of these purchases you can use again in the future, should you continue to run (even just for fun!).  However, the average lifespan of running shoes isn't very long (should be replaced every 500km or so), so that's another cost to upkeep if you decide to continue running.
Here are some ways in which you can save on your training for your next 10km race and half marathon.
The Early Bird Gets the Worm
For most races, the earlier you register, the more economical your race entry is.  Therefore, the early bird gets the worm.  Many people cannot commit to the idea of running a half marathon (I know I was hesitant at first) but if you put in your training, you will get up to the amount of running you need for the race.  So just take the plunge and register.  Also, make sure you do a quick search for some coupon codes for your race registry too, you never know!
One thing to be cognizant of is to prevent injury, because that will definitely affect your ability to run in the race!
There's an App for That
There are many free apps that you can download to help you train for your race.  One of my favourites was the Nike Run app.  It tells you how fast you are going, how many kilometres you have run, you can play music while the app is on, and the most helpful (in my opinion) aspect of the Nike Run app is the voice of Sonia Richards Ross who encourages you to keep on going, who compliments you for running more this week than last, and who congratulates you on your a run.
I also found a great half marathon training chart that I took a screenshot of on my iPhone so that I could put it into my day planner the number of kilometres I need to run that day.
Sign up for Free Running Clinics
There are free run clubs or running clinics in major cities- you just have to ask around.  For example, Running Room has a free weekly clinic on Sundays for training for your race.  It's a nice way to meet new people too.  Another alternative is joining your local running club Meetup.com group.  A lot of like-minded goal-oriented race-oriented people are also training for their races and it is a nice opportunity to meet other people.  A good running buddy can take your mind off of thinking "Oh my goodness, how much longer do I have left for this training run?  I am so tired!" which is often, priceless.
Some of the places that offer free clinics also offered paid Marathon or Half marathon training packages, and this can be upwards of $100, they offer things like meal training, what to eat, how to mentally prepare for your race.  A lot of the information can also be found on the Internet and of course, friends and family who have completed marathons, half marathons, and 10km races already.  Here are more tips on how to save money on running from About.com.
 Don't Succumb to the Temptation of Fancy Running Snacks
It is very tempting to spend $3 on flavoured electrolyte replacement gels and other fancy running snacks and running gear, but I didn't start this trend for myself and found that I did fine without these.
Bargainmoosers, how did you save money on your 10km and half marathon race?
Photo credit: Joe