Hollister: Sweaters were $43 | Only $6.40 with Coupon (FS @ $50)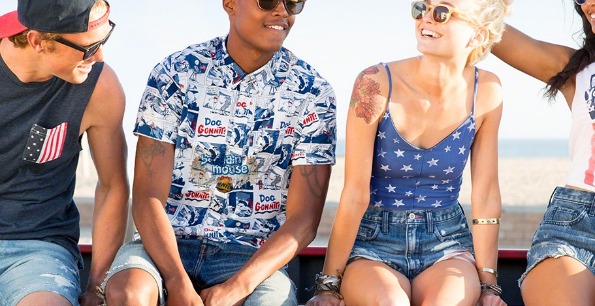 Hollister Canada is offering an extra 20% off the clearance section today only. I found a selection of Hollister sweaters on sale from $42.95. After coupon code 36888, pay just $6.40 per sweater.
While there are plenty of amazing clearance prices to combine with the 20% off coupon code, I found these sweaters among the best deals. There are three sweaters to choose from.
This sweater is knit from super soft marled yarn and has a relaxed v-neckline. Ribbed cuffs and hem complete this relaxed-fit sweater. Choose from light grey or navy in sizes XS/S and M/L. The sweaters are fairly stretchy, so they only come in two sizes. The back appears to be a bit longer than the front as well.
The Warner sweater has, in my opinion, an Aztec style pattern (they call it southwest) on the front of the sweater. This top is also a marled knit texture. The Warner Springs sweater has a crew neck, rubbed cuffs and hem, as well as side gussets. Again, the sweater is easy fit so there are only two sizes: XS/S and M/L. Grey pattern has the pattern vertical down the front of the shirt. Burgundy pattern has the graphic horizontal across the bust. The two patters are also different depending on colour.
The Bay Shore sweater appears to be quite the popular choice: only black in size XS/S is still available. This is my favourite sweater as it comes in a plain black with a V-neck. The sweater has a draped fit, ribbed trims, and those same side splits.
Shipping is free on orders of $50 or more today only. There are plenty of other marvellous items to add to your cart in order to receive free shipping. I recommend the Hollister Classic Taper Jeans (for men) on sale from $53.95 down to $24.99. After coupon code, pay just $19.99.
For women, load up your wardrobe with a staple top: the Southside Hoodie. Originally $42.95, the hoodie is on sale for $10.73 in multiple colours. After coupon code, pay just $8.58 each. I would purchase one in every colour: heathered grey, navy, and cream.
I am shocked at how many items you can buy for under a $10 bill. There are even shirts under $5 once you apply the coupon code. This is a one-day sale you do not want to miss.
(Expiry: 9th June 2015)