Hockey Fans! 40% Off Reebok Premium Jerseys Plus Free Shipping @ Sport Chek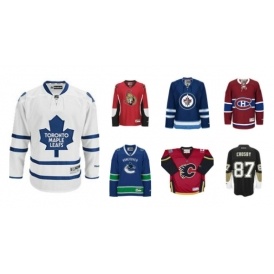 Calling all hockey fans! Right now, you can score (ha!) NHL jerseys at Sport Chek for 40% off the original price. They're offering free shipping, as well, so no extra charges there, either. If you've got the 10% off code for signing up for Sport Chek's newsletter, stack away and save even more!
If you don't see your favourite team on the main page, don't fret. Search and you'll find even more jerseys are marked down but, for some reason, they don't all show on the sale page.

I was born and raised in the GTA so I'm a Leaf girl at heart (through thick and very thin!) and there are a number of jerseys to choose from. This Youth Premier Jersey is just $53.99; the adult version is down to $83.99.

Aside from the big names (like Pittsburgh) our beloved Canadian teams are very well represented! Winnipeg, Ottawa, Vancouver, Calgary, Edmonton and Montreal are all available, though not in every size. There are even some player jerseys sprinkled throughout at slightly higher price points - like Edmonton's McDavid for $107.99.
If you've ever shopped for a jersey you know these are great prices. Get them while Sport Chek is offering free shipping on every order and show some team pride for the playoffs!
(Expires: Unknown)