Happy Socks: 50% Off on 10 Pairs or More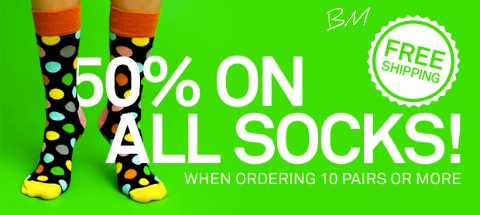 YAY!! My favourite sock supplier (and only sock supplier) is having a fantastic sale!! Buy 10 pairs of socks at Happy Socks and get 50% off your entire order + free shipping!!
Happy Socks are the ONLY socks I wear. I have 38 pairs of them, different pattern/colour combos to suit my every mood: and every outfit! I LOVE MY SOCKS!!! :D
This sale includes socks, over-the-knees and tights! They have a HUGE selection: not only of combed cotton (the original) but also hemp & recycled yarn as well as merino & wool. And girls, you think their socks are cool: their tights are wicked too! :)
I am SOOOO excited, it has been ages since they had a good sock sale!
No collaboration socks likes the Giles are included in sale.