Garage Canada: BOGO Free Swimwear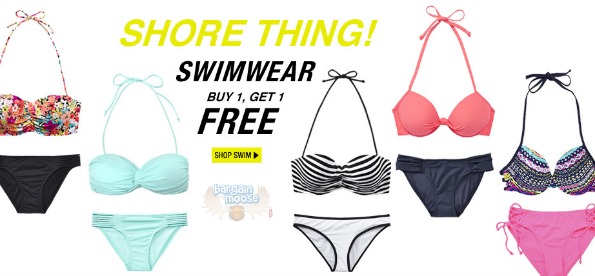 For a limited time only, you can get some really great deals on swimwear over at Garage Canada.  All of their swimwear pieces are on sale for buy one get one absolutely free!
I am in desperate need of some new swimwear because I find no matter what brand or quality I buy, the amount of chlorine that gets put into public pools eats away at my swim suits just about every single year.  I basically have to buy a new bathing suit every year because of this.  Keeping that in mind, who wants to spend a lot of money on something you know you will be replacing.  This BOGO free deal is perfect because you get two bathing suits for the price of just one!
Scanning the different swim tops and bottoms almost all of the are the same price.  The tops are all $24.90 and the bottoms are $19.90.  Like all BOGO free deals, you will get the lower priced or equal priced item for the free one.
My favourite top would have to be this paradise strappy bandeau top that is $19.90.  I would pair it with these side tie swim bottoms that are normally $19.90 but with this deal will be free.
I also really like this striped bustier swim top that is $24.90.  If I got it, I would get these pink bottoms that would go with both tops to mix and match them all and the bottoms would be free again.
There are some other sales to mention while you are shopping online as well.  They are offering denim shorts for buy one get one 50% off, they have dresses on sale starting at just $15 each and they even have a deal on sale tops giving you an additional 30% off the lowest sale top prices.
With all of these sales happening, you might want to update your wardrobe for summer.  It will be easy with these deals to spend the $50 minimum to get yourself free shipping as well.
(Expiry: Unknown)