Free Shipping on Every Order & 30% off Regular Priced Items @ RW & Co.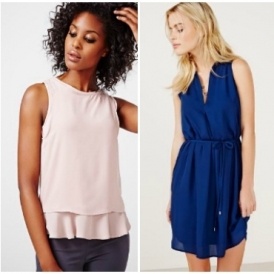 Great news! Today only, RW & Co. is shipping every order, regardless of minimum, for free. You normally have to spend $120 to receive free shipping. On top of that, all regular priced items are 30% off.
I absolutely love RW & Co. dresses and they have some great ones for summer. I really like this Loose Knit Sleeveless Flare Dress and think it would be nice and cool. It's $59.90 but with the 30% off, it's only $41.93. And I love, love, love this Sleeveless Crepe Dress with Waist Tie. It's so pretty--I love the silhouette. The regular price is $69.90 but it's just $48.93 today.
These Modern Stretch Capris are super comfortable and versatile--easy to dress up or down. They drop from $49.90 to $34.93. Pair them with something like this Cap Sleeve Blouse that's $41.93 today, for a great outfit.
For the boys, get Chino Shorts in a variety of colours for as little as $34.93.
Remember, every order ships for free but only through the end of the day!
(Expires: 1st July 2016)