Forever21 Canada: Men's Double Breasted Trench Coat Was $48 | Now $23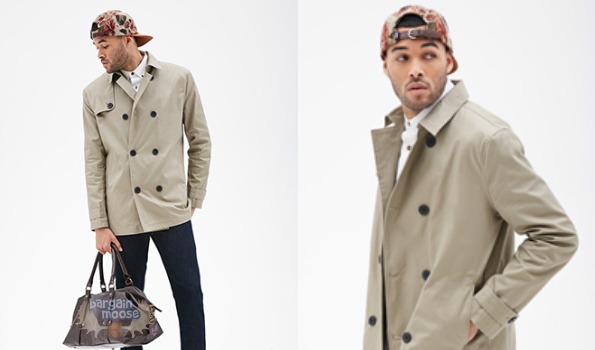 With spring soon on its way (come on, 2 months is soon!), your man might be needed a new spring jacket and this double breasted trench coat could just fit the bill. Regularly $47.90, it is on sale for $32.99. Add the promo code below and watch that total drop down to $23.09. That's about 50% off.
Click here to shop @ Forever21.com now
Coupon Code: EXTRA30
Discount: 30% off sale
Expiry: 11th January 2015
I didn't used to be a fan of trench coats on men. I think it was the stigma behind them that flashers would wear them and they just seemed wrong to me. I still am not a fan of full-length trench coats, but this double breasted coat is seriously sexy! At just the right length and with the double set of buttons, it really dresses up any outfit.
Perfect for cool and wet spring days and even for the fall, this coat will get lots of use as a wardrobe staple. It comes in four colours with classic black available in all sizes, the always trusted navy also in all sizes, olive for those who suit it in all sizes and khaki in small, large and extra-large. I think for this price I'd get one of each because the colour choices are all so different. The khaki is perfect for spring, while I'd wear the black or navy in the fall.
There is one review that gives it four stars out of five:
This trench coat is pretty cheap compare to the other trench coats. No regrets of buying this product except for the holes where you put the buttons it's pretty hard to put it.
I would think the button problem could be easily remedied with use, as the holes would naturally get a little less tight.
This Forever 21 coupon can be used on any sale items, so you might also want to see what else you can get with an additional 30% off. When I shop for my husband, I always take a look what there is for me and I found this belted trench overcoat this is regularly $81.80 and on sale for $56.99. With coupon, it comes down to $39.90.
I'd buy both coats and my total would come to more than $60, which means I'd also get free shipping.