Forever 21: Up to 70% Off Clothing & Accessories Flash Sale (FS @ $60)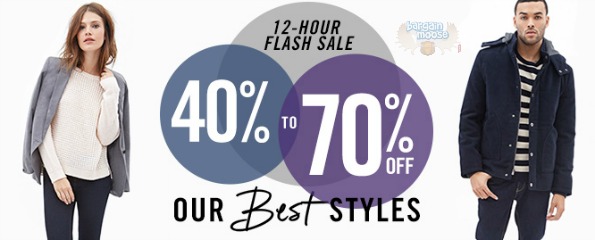 Forever 21 Canada is offering up to 70% off clothing, jewellery, accessories, and more today only.
If you are looking to buy a new wardrobe on a budget, then this is the sale you want to shop. With tops under $5 and skirts around that range, you can purchase an entire outfit for less than a $20 bill.
The Floral Lace Twirly Skirt is on sale from $17.80 down to $5.34. For five dollars and some change you get a woven lace dress that comes fully lined (no need for a slip). While there are four colour options, this style is selling out quickly. Only sizes large and small are currently available.
There are plenty of cheap tops (between $5 and $6), but most of the sizes are sold out. I checked out a plethora of tops that only hide size large in stock. Finally, I settled on the Striped Crew Neck Top that was $17.80 and is now on sale for $7.12. This simple top is sold out in cream/wine but all three cream/navy sizes (small, medium, large) are still in stock.
Scoop up this Ombré Chiffon Maxi Skirt before it sells out! Originally $27.80, the skirt is now on sale for $8.34. The skirt has slits running up the sides. While semi-sheer, the skirt does come with a partial lining so you can wear the chiffon maxi without flashing your underwear.
The Slanted Pocket Shirt is another heavily discounted top. Originally $27.90, the shirt is on sale for $8.37. The oversized chambray shirt has a traditional collar and five-button placard. Light denim in colour, you can pair this top with jeans and skirts. Sizes medium and large are still available in the slanted pocket shirt.
Here are a few other deals I like:
Sizes are selling out really quickly, so you may need to pile through several pages of clothing to find stuff in your size. Just gauging from the response, this appears to be a very popular sale. The pricing is very good and the discounts truly from 40% up to 70% off.
Forever 21 offers free shipping on orders of $60 or more. Of course, the $60 total must be reached after discounts are applied. Orders under the free shipping minimum cost $8.95 up to $12.95 depending on how much you are buying.
(Expiry: 12th February 2015)