Fjallravencanada: Extra 25% Off Sales Items & Extra $10 Discount For New Customers!

This weekend, you can get an extra 25% discount on select summer clothing and accessories in the sale section at FjallRaven Canada. That's quite handy… but there's also a great $10 coupon code with no minimum spend which applies to sale items! This double discount deal can be used by new customers for this store.
In this post, Avigayil wrote about the $10 coupon code which you can get for signing up to email updates from Fjallraven Canada, to be used on your first order. It turns out that the coupon code is generic and can be used by anyone – apply the Fjallraven coupon code FJCAN-SS14-10  to your shopping cart. Just note that you must be signed in to an account to see the discount appear – if you're not signed in, there will be an error message and you won't get to see the discount. This is what you will see: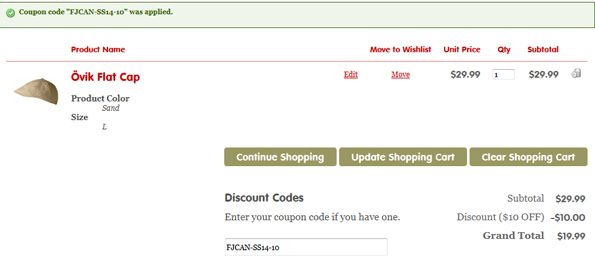 There is not a huge amount of items in the sale section at Fjall Raven, only 16 to choose from… but have a look and see if there's anything you like.
One of the lowest priced items in the sale section is this Fjallraven Övik Flat Cap which was originally priced at $39.99. The sale price on this is $29.99, but it would be only $19.99 if this was the item to which you decide to apply the $10 coupon code.
This is exactly the type of hat I like to wear in the summer sun – the Abisko Summer Hat. It was originally priced at $64.99, it's down to $48.75, but it would be $38.75 when you add the coupon code. I have a hat that's almost identical to this one… just another brand name.
Canadian Shipping
Sadly, shipping isn't free on any order –you must spend a minimum of $75 to get free shipping to your home. That minimum threshold isn't incredibly high though, that's achievable.  If your order is lower than $75, the shipping fee is a flat rate of $15. It might make sense for some items…. For example, the flat cap which I mentioned above – if you're buying it alone, then you'd get it for ~$35 including shipping to your home.
(Expires 2nd September 2014)