Extra 30% Off Sale and Clearance @ Club Monaco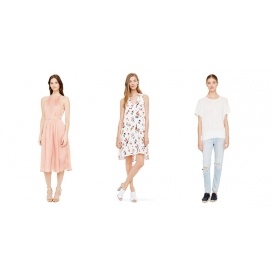 I've been shopping and wearing Club Monaco since I turned 14 years old and scrounged and saved birthday money and allowances so that I could go to the clearance location by my house and buy a particular sweatshirt (a VERY 80s off the shoulder number) that I'd had my eye on for weeks. It was the start of a beautiful love-affair with clothing and style.
I ended up working (slaving) at the annual Club Monaco weekend warehouse sales in downtown Toronto, where we'd work 14 hours days in absolute madness but come away with garbage bags full of clothing basically for free. Those years are (ahem) long gone, but I swear I STILL have several items from those crazy days in my wardrobe to this day. Because though you pay a little more to shop here, you get quality clothing that stands the test of time.
There are pages and pages of items to shop in sale section and after the extra discount some pretty fantastic deals to be had. They've even added a ton of spring inventory. I'd consider the Gizela Sweater a perfect spring staple and this very pretty Sumner Floral dress is only $69 before tax! I'd wear this with a blazer or denim jacket on warm spring evenings and live in it during the summer.
It's also a great time to stock up on wedding season outfits. Check out this beautiful blush silk dress, only $99 before tax with the extra discount.
Shipping is free after $150, so buy a few items to take advantage of it. Now, excuse me while I get to shopping!
What did you score Moosers?
(Expires March 28, 2016)