$3.99 Tops & Free Shipping on All Orders @ Urban Planet & Sirens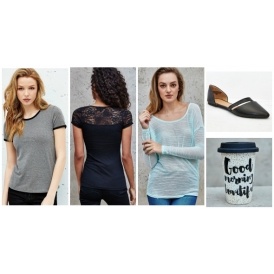 Sirens - the cheap-chic clothing and footwear store - has teamed up with their sister brand, Urban Planet, to introduce online shopping and they're both offering totally free shipping on every order through tonight. They've also got extra discounts on their sale items bringing some items down to as low as $3.99! No code is needed for either promotion - discounts are applied in your cart.
This cute, simple Lace-Trimmed Tee is still available in a rainbow of colours. It's soft and stretchy; the cap sleeves are lace as is a panel across the upper back. It was $7.99 but there's an additional 50% off that, bringing the price down to just $3.99. Great basics like Henley Tees and Ringer Tees drop to $4.99 after their additional discount.
The detailing on this Button-Back Tank is really pretty and they're only $6 each. For just a few cents more, the Fleece-Lined Leggings and Lightweight Striped Knit top are both $6.49.
I took a gander at the regular priced sections and found some really cute stuff. I love the shape of these Faux-Leather Flats for spring and summer and they're only $14.99. They also have a quirky Home & Gift section with fun things like emoji pillows and graphic tumblers.
The minimum spend for free shipping at Urban Planet / Sirens is $8-$9 depending upon order value so save that extra cost today while they're offering free delivery on every single order!
(Expires: 28th February 2016)