Danier Leather: Greer Performance Fabric Bomber Was $299 | Now $99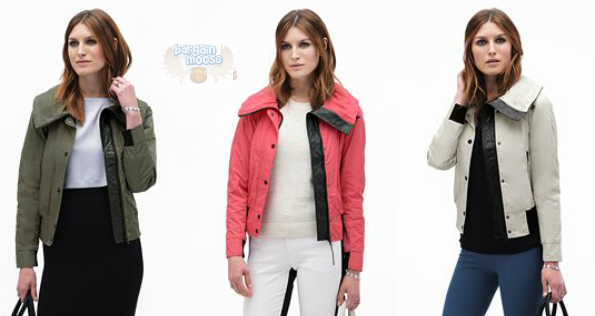 Danier Leather has placed this gorgeous Greer Performance Fabric Bomber in sale from $299 down to $99 plus $8 shipping.
I think this is a sweet-looking coat. The Greer has the shape of a classic bomber with a few extras added to it. The material has a water-repellant finish and a stow-away hood for those unexpected spring showers.  While this is a fabric coat, the jacket is trimmed in lamb leather. The ribbed knit cuffs and hem are both comfortable and lock in a little extra body heat.
The jacket comes in three colour choices:
Roughly translated, you are looking at an off-white, a pink, and a green. While I generally stay away from white and all of its variations, I do think this coat looks best in the bone colour with the black lamb leather trim. In British Columbia, I would certainly find the hidden hood quite useful. Many times, I have been out running errands when previously non-threatening clouds decide to cry out in frustration.
The size selection is very generous. Between the three colours, sizes XXXS up to XL are in stock. I suggest consulting the Danier Leather size chart as I find their coats fit generously. I have never bought more than a medium in their coats, and yet I would generally take a large or an extra-large. Remember, leather stretches so a slightly snug jacket is better than a jacket that is too lose. As I have learned myself, you can always stretch leather but you really cannot do much to shrink it back to size.
Shipping is free on orders of $150 or more. If you just want to purchase this coat, then you will need to pay $8 for shipping. Given that the jacket is already $200 off, I do think the $8 for free shipping is quite worthwhile. Alternatively, you could purchase two jackets, another jacket from the sale section, or a few accessories if you have your heart set on reaching the free shipping minimum.
The Danier Leather Greer Performance Fabric Bomber seems to be a nice spring and fall jacket. With moisture protection, you are ready for whatever spring... or winter clutching at its last vestiges of power... throws at you.
(Expiry: Unknown)