Custom Designed Shirts from $17 @ Canvus.com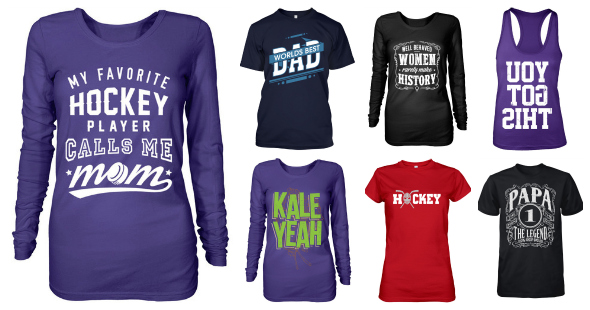 We came across another great Canadian company here at Bargainmoose and wanted to tell you about it and some of the cool products they offer. Founded and headquartered in Vancouver, Canvus.com offers custom designs printed on your choice of shirt but with a unique twist. Unlike other sites where one design is created and printed on a hundred different items as people order them, Canvus designs run for only a set number of days, referred to as a campaign. When the campaign ends, only then are the items manufactured and shipped to customers. Despite their many offerings for US college sports teams, the shirts are printed in Canada so there are no customs or duty charges and the site is in Canadian dollars. They even have a generous 60-day return policy.
The Canvus catalog is divided into categories and is also searchable. The categories include: Family, Lifestyle, Humor, Fitness, Music, Sports and many others and the designs run the gamut from cheeky sayings to bible verses. There are some neat designs in the Family category that would make great gifts for Mother's Day and Father's Day. There's really something for most everyone. 
A few of my favourites:
Once you've selected the design you want, you get a choice of colours and various shirt styles on which your design can be printed. The prices for the various shirt styles vary depending upon the complexity of the design but they start at about $17 for a unisex crew neck tee and go up to $55.99 for a cozy hoodie. But be sure to scroll through your options when ordering as I found the same hoodie with a simpler design was more than $10 cheaper.
I'm most excited about the Canvus app. Although shipping to Canada isn't available yet (it's promised to be coming soon), you'll want to watch for it. The app lets you design your own shirt. Upload your picture or text from your device, select the number of shirts you want, pay, and they will be printed and sent to your doorstep. I can't wait for this to be available here and I sincerely hope they offer children's sizes. I'd like to create tops for my son that will surely embarrass him when he's looking at pictures 15 years from now. I'm thinking something along the lines of, "My mommy is the only woman I'll ever love!" I kid, I kid.
Although we don't have a specific, exclusive deal for you, I found that you automatically receive a 50% shipping discount when you order two shirts (i.e. you'll only pay the standard $6.22 shipping as opposed to $12.44). Another 'Easter egg' I found was a $2.60 credit applied to my order when I'd been on the site for a while with items in my cart. A pop-up appeared offering the savings and who was I to refuse? I've never met a surprise discount I didn't like. Keep an eye on our Coupon Page and hopefully we'll be able to score some goodies for you in the near future!
Take some time to browse Canvus, Moosers; I hope you find something you like or even just something that makes you smile! Let me know which design was your favourite.
(Expiry: Unknown)