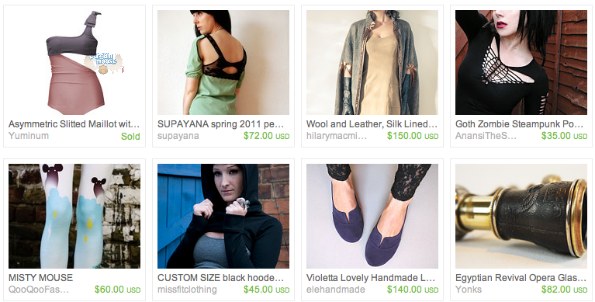 Some people I know love Etsy - they are Etsy devotees! If you are unfamiliar with Etsy it is a bunch of people, like you and me, who sell handmade and vintage products via mini stores. I also recently discovered that if you watch and wait, sometimes your favourite sellers will give coupons for discounts!
Recently I went on a little Etsy shopping spree because stores I liked suddenly had fantastic coupon codes.
For example:
SouthernTwistedSoaps is offering 20% off anything with coupon code SpringCleaning - I picked up some awesome Olive Oil Cold Pressed Soap.
ConsciousSkinCare is offering 15% off anything with the coupon code MOTHER15 - I picked up 100ml of Argan Oil for pretty much $25 including shipping, where here it costs around $40 for 1/3rd that amount.
SacredEmpire is offering 20% off her clothing store with coupon code TAKE20 - I picked up a 'Sorcerers Dress that is to die for - $60 all inclusive for a custom made dress.
Aftershowershop is offering 15% off their tulip skirts with coupon code 15DIS - I picked one up in blue, can't wait for it to arrive!
Even on Etsy you can get great deals using coupons. My advice is to add items to your favourites and check back on the store regularly to see if they have a coupon listed. I Check every few days and managed to score these extra deals on things I wanted by doing so!
Happy Etsy-ing!
P.S. The banner is a picture from my favourites list!