Colorblock Fit & Flare Dress Was $175 | Now $44.49 + Free Shipping @ Banana Republic Canada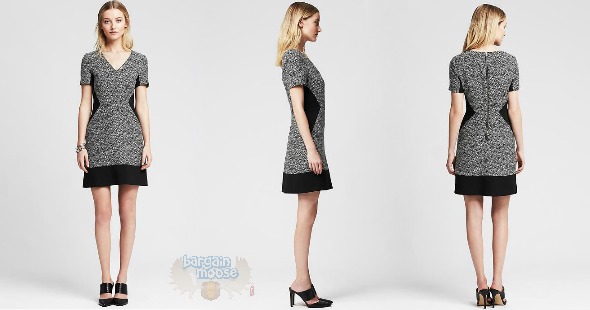 Spring is here, although the weather seems to be taking its sweet time warming up. You should still start preparing your wardrobe for the spring/summer weather though. Banana Republic Canada has taken no time at all to bring you a coupon code to receive an additional 50% off sales items. I applied this discount to the Colorblock Fit-and-Flare Dress and was amazed with the final price. This dress was originally priced at $175 and on sale for $88.99. With my 50% discount, the price is knocked down to just $44.49. The best part is that this dress totaled $50.27 so I still got free shipping!
The Colorblock Fit-and-Flare dress is sure to accentuate your best curves, without paying a high price. The front and back of the dress are a cute pattern, while the sides have some black cut-in detailing to give your body a figure-8 shape. This is one sure way to highlight your hips. This dress was $175 and on sale for $88.99. Apply the coupon code for an additional 50% off sale items and you will be left with the amazing price of $44.99.
Coupon code: BREXTRA
Discount: 50% off sale items
Expiry: 26th April 2015
This dress is also available in the White Stretch Fit-and-Flare Dress style. The pricing is the exact same, but if you prefer less patterns then this dress i the way to go. All sizes remain available in this particular dress. Both dresses have hand wash instructions. Fortunately, my washing machine has a hand wash setting that works wonders. If you don't end up liking your new dress for whatever reason, Banana Republic offers free returns or exchanges in stores or by mail. I did try to stack this coupon with their 25% off when you sign up for their emails, but unfortunately you cannot combine the two this time around.
There are just a few days to use this Banana Republic Canada coupon code, but who knows if the sizes will even last that long on the hotter items. My advice is to take a look through their website and purchase what you like while you can. Even if it's not this gorgeous Colorblock Fit-and-Flare dress that I pointed out.
While Banana Republic's website says that they offer free shipping on all orders over $50, you may be pleasantly surprised. This item did not total $50 after the discounts were applied, but since you apply promo codes after you select your type of shipping, the shipping was still discounted to free. It doesn't get much better than that. You can see all of Banana Republic's coupon codes in our Bargainmoose forum.