Clothing From $3 + Up To 50% Off Storewide @ Old Navy Canada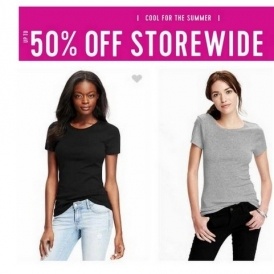 When $5 and up sales hit at Old Navy you will want to quickly click your way over all of these links and act fast to put some of these items into your online cart! If you spend over $50, you will want to enter the promo code SAVE and see if you receive any additional discounts of 25% off - there are quite a few restrictions on that code due to the nature of this sale (with such great clear-out prices) - it makes sense that you can't use it on everyday savings or hot deals etc. Either way, as a general rule, always add the current promo code into your cart in case you think something won't be discounted, just in case it is!
Look at all of these Women's T-shirts that are on sale for only $5! You can stock up on some essential T-shirts that are super comfortable to wear.
This women's Graphic Tank has a cool saying: "Good Vibes Make Great Karma", and is only $3!
For Girls Tees, there are some patriotic Canadian Flag T-shirts for only $5 and they will arrive in time for Canada Day! There are also camisoles in that link, they are great for girls to wear when it's hot outside, or for use in layering clothes.
These light support Sports Bras shown below are only $10, down from $25!
One great tool that Old Navy has for refining your searches, is a sliding bar for showing you a selection of items within the price range you select. I love that feature, as one can easily spot all of the lowest price items within a group! in this case below, I had only used a range of price from the lowest possible start price in this category, $9, to $11, (randomly selected) and these two selections popped up.
Here is a quick and easy link to find women's Shirts At $10 And Under. It's great to be able to sort through the low priced shirt so easily, and you can further refine the search by size, too!
As always, shipping at Old Navy is free on orders over $50, or usually starts at around $7.95 if you don't meet the threshold.
(Deal expiry: June 12, 2016)