Cleo Canada: 55% Off Chiffon Watercolour Maxi Dress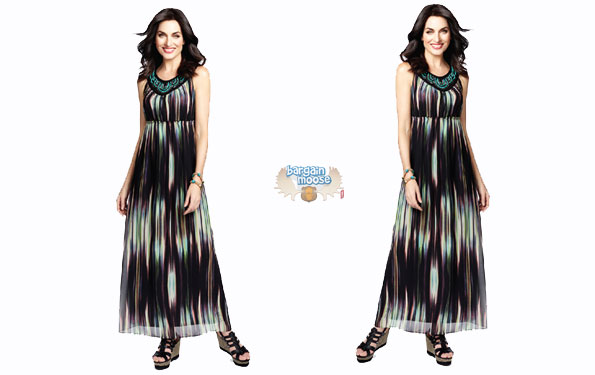 Cleo has a great discount on the chiffon watercolour Maxi dress, along with a variety of Maxi dresses and skirts. For a limited time, you can get it for 55% off at just $49.99 instead of its regular price of $110.
Brightly-coloured Maxi dresses are definitely all the rage right now but I actually much prefer this watercolour one because it stands out from the rest. Its scoop neckline also differentiates it from the rest as it has a variety of beads sewn onto it. Although I would wear it to go grocery shopping or to a barbecue, with summer in full swing, there is also the option of wearing it to an outdoor wedding as this reviewer did:
The skirt is a chiffon material, so it does not stretch. That said, I found the dress to be quite flattering. I was looking for something to wear to a casual outdoor wedding. This would also be a great dress for date night.
If you have been looking for a dash of colour to brighten your wardrobe, then check out the paint stroke halter Maxi dress instead. It's the same price as the watercolour one but features a brush stroke print that actually reminds me of lilac flowers. Check it out for yourself and let me know if you see them too in the comments section! :D
I have been trying to add some versatility to my wardrobe in the past couple of months, especially colour-wise and I think the blue floral print Maxi skirt may just be the way to go, especially since it's now just $41.30 (reg. $59). I find it's perfect for my post-pregnant body as it features an elastic at the waist and is sure to be ultra-comfortable. Lately, I've mostly only been wearing leggings, so this skirt would definitely contributed towards a much needed change.
Make sure to also use the Cleo coupon code JUNE19 to pay just $1.99 for ground shipping when you shop for over $40.
(Expiry: Unknown)