Cents of Style Promo Code: Leather Accent Cardigan Only $9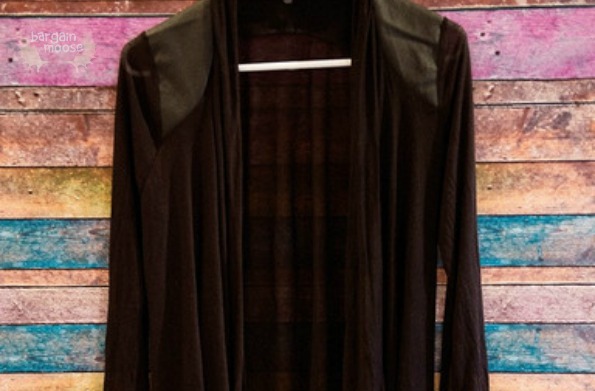 Cents of Style has a very specific coupon code going on, but its going to give you a hot deal! Get the leather accent cardigan, regularly $29.95, for only $8.95 plus $5 shipping for a total of $13.95. All prices are in U.S. funds.
Click here to shop @ Mycentsofstyle.com now
Coupon Code: DEAL2014
Discount: $21 off
Expiry: 17th August 2014
I'm totally loving this cardigan. It is the perfect topper to pretty much any outfit - dressy or dressed down. Cardigans are such a must-have in a ladies wardrobe for those days where you want to feel comfy, warm, but still look nice. I love that this one has leather accenting. It just takes it from a plain ol' black cardigan to a full-blown accessory.
The length is also perfect as it is longer in the front and shorter in the back, which I sometimes use to tie it up in the front if I want that look. It comes in three colours, which are black, charcoal gray and oatmeal. I have some personal knowledge that this cardigan runs a little bit big, so you may want to take it down a size from your regular size unless you like more room. Although the sizing is quite broad in terms of small, medium and large and I know the medium work still work well for me.
Cents of Style does ship from the U.S., but if you just get this cardigan, you won't encounter any duties as your total will be under $20. If you were interested in getting more from Cents of Style, as their flat rate of $5 shipping doesn't change if you buy one or you buy 12 items, you should take a look at what's on clearance.
I found these really cute Ayda girl's cut out flats, which I think any little girl would love as a new back to school shoe. They are now only $14.95. There are plenty more deals to be had at Cents of Style. Check them out!