Carrie's Closet Canada: Leggings for $10 & $5 Off Coupon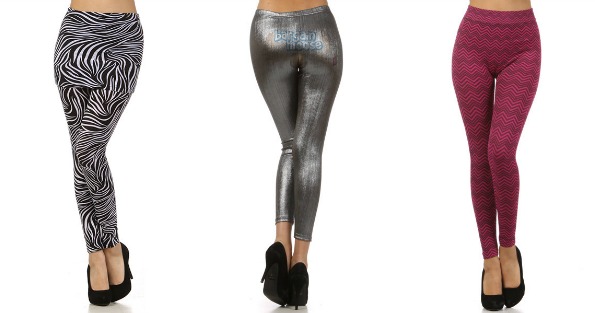 Carrie's Closet Canada has a sale on leggings right now where you can purchase funky new leggings for just $10 a pair.
While this is a good deal in and of itself, with the coupon code TRYME still currently active (previously blogged here), you can buy one pair of leggings for just $5! The coupon gives you a flat $5 off your order, so if you just buy one pair of leggings you are getting them for $5 + tax + shipping.
Do you love the great outdoors? The Olive Green Skirt Leggings are a skirt and legging combination that resembles abstract grass. These leggings are ideal for anyone who likes to wear leggings but also wants their butt covered more. I usually buy tunics or very long shirts to cover my butt when wearing my leggings, but this pair would solve that problem for me. Originally $15, they are now only $10.
The Pleather Denim and Animal Print Leggings are sure to be popular with many girls. The patchwork style mixes denim and animal print together for a retro feel. Wear them with your favourite animal print top or work them into a costume. Originally $15, they are now $10.
If you are looking for a basic legging to go with most your tops, then look no further than these Pleather Leggings with zipper available in teal, olive, royal blue, or taupe. The solid colours will match well with tops that are more expressive and the zipper down the outside of the calf provides additional visual appeal. Originally $15, they are now only $10.
For girls who are queen of the disco floor, these Shiny metallic leggings in gold, silver, and black are your ticket to fun. They are slightly sheer, so I suggest wearing these with a shirt long enough to cover your delicate bits. These are also only $10.
I really like the skirted design that Carrie's Closet offers, though I am not too fond of the grass print. However, this pair of Zebra print skirt leggings is a pattering I could see getting my behind inside. Zebra is certainly one of my favourite animal prints.
Last but not least, these Zig zag leggings in blue, taupe, or gray look comfy and would certainly go well with an over-sized chunky knit sweater. Both these and the zebras are also on sale for $10, originally $15.
Most of the leggings are OSFA - good for up to size eight. Shipping is a flat rate of $5.
(Expiry: Unknown)