Butterfly Collection Coupon Code: 40% Off Fantasie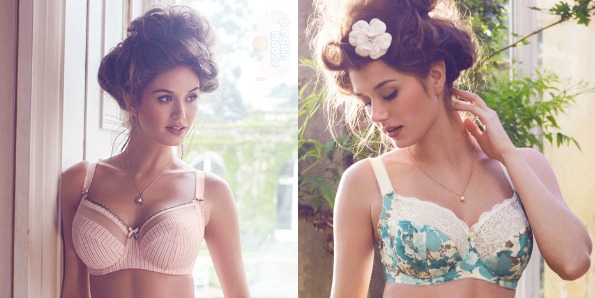 Enjoy 40% off all Fantasie bras and underwear at Butterfly Collection Canada with the following coupon code.
Click here to shop Fantasie @ Butterfly Collection now
Coupon Code: FANTASIE40
Discount: 40% off Fantasie brand
Expiry: 22nd August 2014 @ 9PM PST
Butterfly Collection is a Canada based boutique that caters to the DD - K cup market in women's bras. While their selection is smaller than big box stores, these are also size ranges you will not find in your usual big box stores much to the frustration of women (like me) who land in this range.
While there are several Fantasie bras to choose from, there is only one matching set. I think every woman should have at least a couple matching sets of underwear to their bras just because it looks beautiful and can make you feel special on a miserable day.
The Robyn Spearmint Bra by Fantasie is a real winner with aqua and spearmint floral print cups and an ivory stretch lace upper. The cup is actually four parts: two lower parts with a side sling, plus the ivory lace upper. Together they create one incredibly supportive bra. The straps are set closer together than most bras, so anyone with narrow or sloping shoulders will feel comfortable in this bra. The straps are also wider than most for added comfort. The bra starts at a 30FF and goes up from there. The Robyn bra retails for $83, but after coupon code, you can buy it for just $49.80.
The matching Robyn Spearmint Brief by Fantasie is necessary if you are buying the bra. It has stretch lace sides for the perfect fit. The opaque front and back panels provide modesty and match the bra perfectly. Enjoy medium-full rear coverage on the back. The underwear comes in sizes medium, large, and extra-large. Originally $38 a pair, you can pick them up for just $22.80 after apply the coupon.
With this deal, you could pick up the Robyn Spearmint bra and brief set for just $72.60, which is over $10 less than the original price of just the bra.
There are three other bras to choose from if this one does not meet your requirements. The Robyn is not available in my size, so I would probably buy the pretty Lois Pink Bra by Fantasie for $44.40 (was $74). Both bras are pictured above.
Orders of $39 or more ship free across Canada. For this and any future Butterfly Collection coupon codes, check out our coupon forum.