Black Mountain Resistance Band Set for $27 Shipped @ Amazon.ca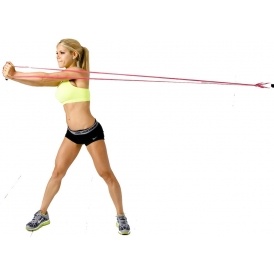 If you missed out on the last Black Mountain Band Set that I had blogged, then here is your chance to get a different set for a great price. The Black Mountain Products Resistance Band Set is currently on sale for 40% off at Amazon.ca and you can get the whole kit and kaboodle for just $26.99 including shipping.
Have you ever used exercise bands before? I just looked up a few videos on YouTube and they look fairly easy to use with pretty great results. Plus they are so much easier to store than hand-held weights with the added plus of being able to toss them in a bag for travelling.
This pack of exercise bands comes with these bands: yellow (2-4 lbs), blue (4-6 lbs), green (10-12 lbs), black (15-20 lbs), and red (25-30 lbs). All of the bands are 48 inches in length and can be stacked for up to 75 lbs of resistance weight. You will also get a door anchor, ankle strap, exercise chart and a nifty little carrying case to make this exercise set nice and portable. I should also mention that all Black Mountain products come with a lifetime warranty.
This is another Amazon Canada Lightning Deal, so if it doesn't sell out first it will expire tonight at midnight. I highly doubt it will last that long though, since the deal is already 25% claimed at this point in time. Shipping is also included with this purchase, so that's another bonus to the great price and use of this product.
(Expiry: 12th April 2016)