Beyond The Rack Canada: Sale on Area Rugs Starting @ $34.99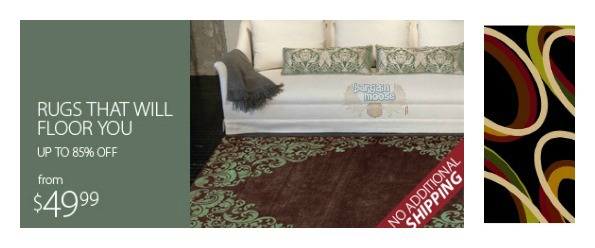 Beyond The Rack has a sale on some great Rug Studio area rugs for up to %85 off the regular price.  There is no additional shipping charged for these carpets.
This 2'6" X 7' Modern Weave Rug In Gray was $85 and is now only $34.99.  This carpet would look pretty good in my front hall, but I think it might play with your eyesight a little bit.
I really do love the colours in this 5' X 7' Pablo Rug In Multicolour that was $349 and is now $139.99.  I actually have one with these colours already, but the design is different.
Here's another one that I find unique.  This 5' X 7' Channel Rug In Multicolour was $349 and is now $139.99. I would even like this on a large wall.
I had to show you this 4' X 4' Magic Flower Rug in Raspberry as I think it would be so cute in my granddaughter's bedroom.  She just loves flowers and this was $159 and is now only $62.99.  It is available in a bigger size, but I think this is perfect for a bedroom.
I do love area rugs as they really seem to complete a room, especially if you have hardwood or ceramic floors.
Be sure to visit our Beyond The Rack coupon page for an exclusive coupon code giving you a $10 credit for new accounts.
Shipping: $11.95
(Expiry: 12th February 2013)