Bench: BH Shia PU Jacket Was $159 | Now $39.99 & Shipping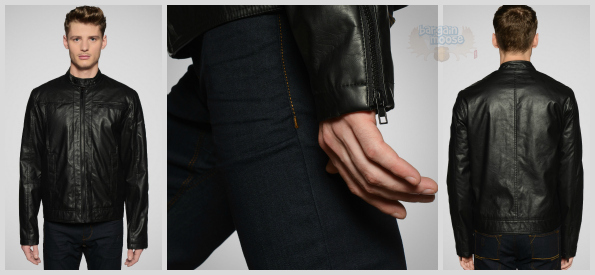 Bench Canada has just dropped a bunch of new products in their sale section with an extra 50% off all sale and clearance items. The men's BH Shia PU Jacket immediately caught my eye as it was $159 and is now discounted to $79.99. In your cart, an extra 50% comes off the jacket bringing it down to just $39.99.
I must have got rather lucky finding this jacket as most sizes are still in stock. Choose from sizes small through XXL right now. The Shia Jacket is made of leatherette in a motorcycle style - no riding experience necessary. The jacket comes with an extended neck flap, which I honestly could not see in the pictures. The quilted interior will help keep you warm on cooler days while you are zipping around looking cool. Zippers around the cuffs allow for expansion. There are also two front slit pockets and a zippered device pocket on the inside at chest level.  Slip your iPhone in there to keep it from sneaking out of your outer pockets.
Overall, you are saving 75% on this jacket after the initial sale price and the extra discount in cart. This jacket deal is one of the best discounts that I found in the sale section. However, if this jacket is not your stile then you may want to check out some of your other options.
The Fullin Zip-through hooded jacket is your ultimate rain jacket on the go. When not in use, it folds up into the hood with a handle. Never be caught in a downpour again without proper protection. Originally $149, the jacket is on sale for $89.99. After adding the jacket to your cart, it comes down to $44.99.
The QuadrupleJup Hoody is the sweetest hybrid sweater you will ever find. The jacket combines wool, a windproof mid-layer, and fleece to create your new best friend for nearly any season. Originally $249.99, the jacket is on sale for $169.99. After adding it to your cart, the jacket comes down to $84.99.
There are many other wonderful deals for men and women in the Bench clearance section now. Have a look and let us know what you end up purchasing.
Shipping is a flat $9.95 if you were to buy just the faux leather jacket. Orders over $99 will ship for free from Bench Canada.
(Expiry: Unknown)