Bench Alternative U Jacket Only $38.69 (Was $129) (EXPIRED)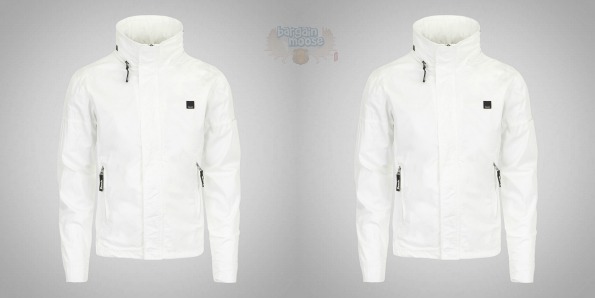 Bench Canada is currently offering an extra 50% off their sale merchandise, which naturally makes for some great deals. This men's Alternative U Jacket is an especially good deal as the original discount is substantial so the added 50% off in your cart really sweetens the deal. Originally $129, the Alternative U Jacket will cost you just $38.69.
This is one of the two best deals you can get on a men's jacket at Bench Canada right now. I chose this deal to feature as they currently have sizes small, medium, large, and XXL still in stock. Most their other steeply discounted jackets have a size left in stock, not four sizes.
While this jacket looks just like a collared jacket, it actually has a concealed hood on the rear. This is a fantastic feature for those times you are caught out in the elements without proper preparation. Just pop out the hood and presto: your head is no longer getting soaked.
You can expect the usual Bench flair with the Bench logo embroidered on the rear of the collar, and places on the zip pulls as well. The jacket zips up and has two pockets for comfortable hands and as a place to stash goodies.
Now, if you buy just this jacket you are going to have to pay for shipping. Shipping costs $9.95 for orders under $99. While you are saving a boatload of money either way, I suggest loading up on other goodies if you want to make that free shipping minimum.
If you are a size XL, I recommend purchasing the Alternative II Green Jacket. This is one hot buy but only available in one size. Originally $129, the jacket is currently on sale for $51.99. Add it to your cart and that jacket comes down to just $25.99.
For the men, I think these are the two best deals on bench jackets you can buy right now. I like Bench because their jackets and hoodies seem to last forever. I own two that I have owned for seven or so years now and they are holding great.
I assume these will sell out quickly, so do not wait around to find out. I also do not know when the extra 50% off sale items promotion will end.
(Expiry: Unknown)