Bargainmoose Contest: Win a $250 gift card from Hatley Canada (Expired)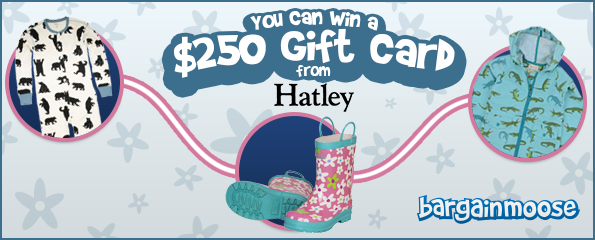 *** Contest now closed, winner was Mooser Nicy! **
Want to win $250 to spend at Hatley's online store? Then read on!
Hatley is a family oriented store that sells clothing and gifts for men, women and kids, but I'd say their kid's collection is what they're mostly known for. If you're not familiar with this brand, check out their boys and girls rain gear and pajamas to start. They've got adorable matching sets of rainboots, raincoats, and if you want to take it one step further matching pajamas. As an example, checkout these Patterned Bear Girls' rain boots rainboots for $39, raincoat for $52, and pajamas for $35.
The prices at Hatley are definitely higher than average, but the quality is also a lot nicer and they have a history of good sales. If you're patient you can always wait for us to announce the next sale or better yet you can try to win this contest!
Like I mentioned just before, Hatley also sells clothing for men and women and a few gift ideas like iPhone cases, oven mitts and aprons. If you check out their Outlet section you'll find some great deals on this stuff. Most items are 40% off.
Here are some of my favorites:
Cardinal Adult Slippers for $17.40 instead of $29.00, I won't get much use out of these in the summer, but I don't mind buying out of season if it's a good deal.
Black and cream striped women's Breton Tee for $28.80 instead of $48.00.
They also have quite a few men's boxers on sale for $7.60 instead of $19.00. My favorite is this Ruff Life design and of course this Moose Size Matters design (naturally I'm a little biased towards moose anything).
How to win a $250 gift card?
Sign up to Hatley's newsletter on their homepage and confirm that you've done it by commenting with a DONE message in the comments of this post.
Get bonus contest entries!
Leave a link to this contest on Twitter, ensure you include @bargainmoose.
Post a link to this contest on your wall, make sure you like Bargainmoose.
Pin this contest on your Pinterest & follow us there.
Rules:
Canadian entrants only
One entry per household
Ends 6th July, 2014
Rules subject to change at admin's discretion