Banana Republic: Shine Double-Vee Dress Was $185 | Now $28 & Free Shipping *HOT*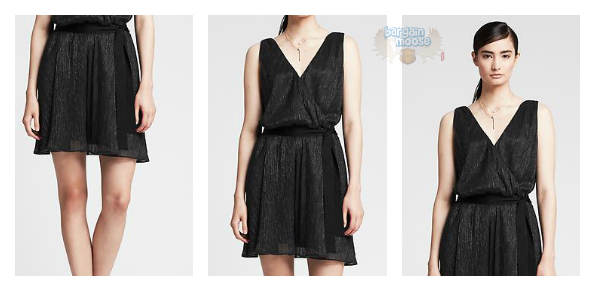 I am blowing my own mind on the deal I found at Banana Republic. The gorgeous little Shine Double-Vee Dress is on sale from $185 down to $55.99. Now, Banana Republic currently has a 50% off sale styles coupon code - BRCSPRING. Use this coupon code to bring the dress down to $27.99.
There is more good news. As the dress was over $50 before coupon, it qualifies for free shipping just by its little own self. You can see the fully discounted dress and the free shipping in this screenshot of my cart.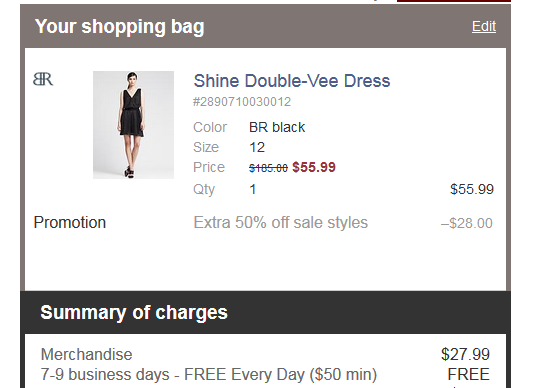 Would you like some more good news? This dress is available in almost every size that Banana Republic makes! Only size 0 is sold out: sizes 2 through 14 are still in stock. That means a good variety of sizes to fit many different women. I am always pleased when most sizes are still in stock as more Moosers can take advantage of the deal.
The dress has a double-v shape with a 'v' shape at the neckline and at the back of the dress. This is a perfect 'occasion dress' that can be used for a dinner out or for your office party. The dress is made of 52% Polyester and 48% Metallic Fibers. The metallic fibers give the dress a gorgeous sheen. The Shine Double-vee dress is black and looks like a wrap dress. However, the wrap part is faux. Rather, the dress has an elasticized waist. There is a tie-front belt and the dress is partially lined.
Now, you need to know a few things about the dress. First of all, like this reviewer says, the dress runs big:
I bought this for a Christmas party and it was perfect! It's very comfortable and flattering. I didn't wear a bra and am relatively large-chested and didn't have any issues. One thing to note is it runs large. I'm normally a 4 and the 2 fit very comfortably (probably could have even been smaller).
Many girls have sized down one to two sizes just to get a good fit. In addition, the dress is a bit on the short size if you are above 5.5". One woman is 5'9 and she said the dress was barely decent - she had to wear tights with it. Take this information into account when choosing your size and purchasing the dress.
(Expiry: 22nd March 2015)