Bags from $5 + Shoes from $15 + Dresses from $20 @ Le Chateau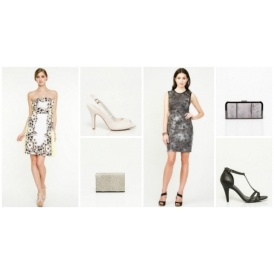 Le Chateau is in the midst of another great flash sale that has spring/summer wedding season written all over it. There are cute clutches for $4.99, shoes for $14.99 and dresses for $19.99.
I was curious to see if you could build an entire outfit (that actually coordinates and looks good) with the least expensive items in the sale and, it turns out, you can!
This Abstract Print Ponte Dress in black and grey goes perfectly with this pewter grey Satin Frame Clutch. Top that off with Leather-Like Strappy Sandals and you have an entire outfit for $39.97. That's crazy talk.
Or, for a lighter colour scheme, this Floral Tube Dress goes great with this black and white Leather Flapover Clutch and these Pointy Toe Cap Pumps and the whole thing is $39.97 again.
The prices go up from there and there is some really pretty stuff (including great dresses for work, too) but just know you don't need to spend a fortune to look amazing for more formal occasions!
Le Chateau offers $5 shipping on orders of $100 or more and charges $7.95 for orders below that.
How busy is your wedding season this year?
(Expires: 4th April 2016)