American Apparel: Extra 50% Off Sale Items From $1!!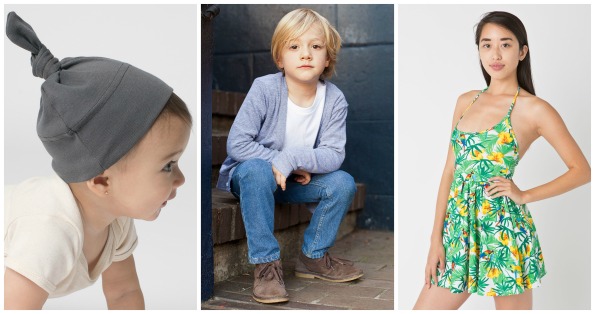 I'm not a fan of the pesky Facebook ads, but they did lead me to an amazing sale! For four days only, American Apparel is offering an extra 50% off their sale section with a promotional coupon code. I've never seen prices like these at American Apparel, more than half the styles are below $10! Shipping is also free on orders over $60.
There is some seriously cute stuff on sale.  The sale selection is also the biggest I've ever seen on the American Apparel website, with 821 styles on sale. That's not even counting the different colors and patterns for each item! American Apparel has something for everyone: kids, women, men and even for your pets.
Here's the coupon code for an extra 50% off sale items:
Coupon code: EXTRA50
Discount: Extra 50% Off sale
Expiry: January 18th 2016
I've compiled the best sales for the whole family below!
All of the items I've listed are less than $10 and most of them are less than $5!
Men
Women
Kids
Dogs
If you're looking for anything different or hard to find in stores, American Apparel is the place to go. They have lots of very useful accessories on sale, like tights and belts at super low prices. Anyone who has a dog has to check out the outfits they have on sale, they look like regular shirts just fitted for dogs!
Shipping is free on orders over $60. Usually, that would be an easily attainable minimum but with these deals you may just get a whole new wardrobe for $60! If you don't want to purchase for $60, the shipping fee is $8. It's not a bad shipping fee considering all the savings you'll be getting with their sale. Remember, this sale is only for 4 days!
(Expiry: January 18th 2016 @ 11:59 PT)