Alexa Pope Coupon Code Exclusive: 25% Discount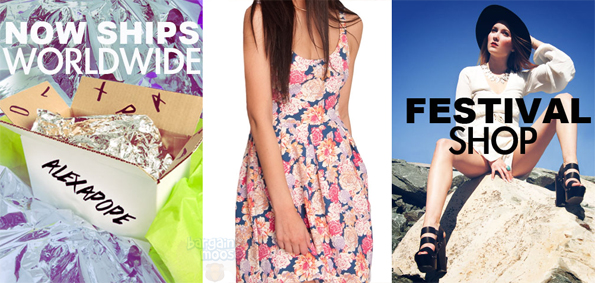 The lovely folks over at Alexa Pope have sent us a super exclusive coupon code to use for a discount on their online fashion store. You can save an extra 25% discount on all regular priced items there! Here are the details:
Click here to use the Alexa Pope coupon code online now
Coupon Code: BARGAINMOOSE25
Discount: 25% off regular priced items
Expires: 29th May 2014
With this Alexa Pope coupon code, you can save an extra 25% on all regular price items on site. Sadly it doesn't apply to sale items, but there are still tons of items on site to use this coupon on.
Avigayil first wrote about Alexa Pope a week ago, introducing this store to the Bargainmoosers… so we got in touch with them to set up this special deal. As Avi said last week, they sell "fashionable finds on a budget" which is ideal for Bargainmoose!
There are many items on Alexa Pope which I can envision myself wearing. For example:
I'd love some new dresses for the summer. While some on there are very daring, there are still a few that could be good for general every day wear. This grey and white maxi dress is only $48, which would be only $36 when you add the coupon code.  I love the big slit up the side!
Vintage is very popular just now, with the likes of these Super Mario tee coming in at $32, or $24 with the coupon. That would be a perfect addition to my casual wardrobe.
There's also a festival shop on there, with some ideas for trendy clothes, such as this Feel Good Skirt for $52, or $39 with the coupon code. I like the wraparound style on this one.
As for Canadian shipping from Alexa Pope, there's nothing we like better than hearing that it is TOTALLY FREE on any order. There is no minimum spend required. Super duper!