Free Shipping On All Orders @ Addition Elle Canada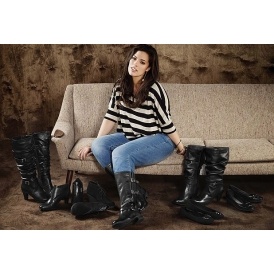 Starting today at AdditionElle.com you can get Free shipping on all orders in Canada. This is an awesome opportunity to reap the benefits of the other Addition Elle offers available. I mean, who doesn't love combining discounts with free shipping!? Normally AdditionElle.com has a flat-rate of $7.95 for shipping - so that is a deal in itself.
The entire site seems to be BOGO 50% off right now, so you can bet that there are pretty deep discounts to be had. You will want to head right to the Sleepwear section though, where everything is buy one, get one free. You can even get matching panties starting at ten bucks.
Even the sale items are BOGO 50% off - which is great. I love getting additional discounts on already fabulous prices. I could totally buy this MXM Sleeveless Cowl Neck Top in both colours available. Both purple and black are priced at $39.99 down from $55, and if you buy two then your second one will be discounted to just $19.99. You can even mix it up and get something like this MXM Sleeveless Foil Top which is available for the same price and comes in red or silver.
The flat-rate shipping fee of $7.95 was pretty hefty before, but with free shipping on no minimum spend you won't have to worry about how many items you need to buy to make up for that. You can literally buy one pair of underwear for $10 and not have to worry about any additional costs.
Moosers, what did you throw in your shopping cart at AdditionElle.com?

(Expiry: Unknown)