20% Off Clearance & 15% Off Everything Else @ Express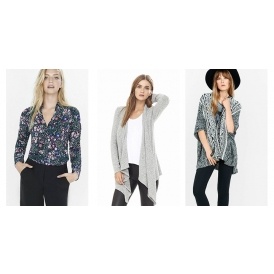 It's that time of year when I'm stuck right in between my wardrobe switch over—a little too warm for my winter sweaters but still a bit cool for cotton shirts and t's. What's a lady to do? Why, shop of course! It's the perfect time now for open cardigans, blazers and light knits and there's a massive selection of all of the above in the clearance section at Express, right now get an additional 20% off.
BUT THAT'S NOT ALL! Use code 9403 and receive 15% off your regular priced items as well.
I'm really feeling floral print button ups this spring—his one is just $37 with the extra discount—perfect for wearing under a blazer at the office or untucked with jeans for running around on weekends. And because I work from home, I'm always stocking up on cosy open cardis that feel amazing but don't look too much like sweats! This one, just $33 with discount.
For running out to grab my kids from school and daycare, my ultimate must-haves at this time of year are a neutral blanket scarf—this one is $24—and the it-accessory of the year (I'm wearing one right now) a poncho! I like this black and white one, which is a little bit less of a statement piece than a heavily patterned one might be.
There are hundreds of items on clearance for you to browse today, and don't forget about the men's section as well! Same 20% off deal applies for the fellas. If you want to toss a few warm-weather items in your cart, don't for get to use code 9403 and get 15% of those too. Shipping is free to Canada on all orders over $125.
What are your must-have spring fashion essentials?
(Expiry Unknown)