Abercombie & Fitch: Up to 50% Off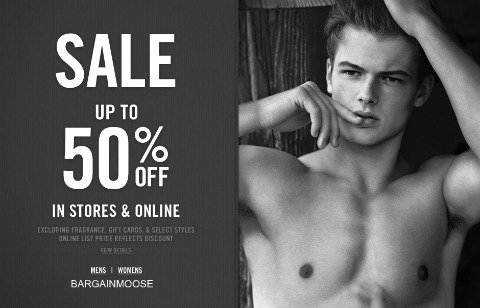 Ohh la la! Abercombie & Fitch is having a sale, and you can join in! Both online and in store you can get up to 50% off items! I found on the website it was pretty much hit and miss, just browsing around and finding things, to see if they were on sale. But they do have a good selection of clothes online, and a nice looking website so it is a joy to browse.
You can also check out the clearance section for additional deals if the 50% off in the regular section just isn't working for you. I found some nice basics that were discounted, for example the Maura shirt was $30 and on sale for $22. You can get it in like 10 different colours.
I have never shopped at A&F before, nor at their online website. I was doing some reading and it seems that even though it is a .ca domain, they still import from across the boarder and thus they will charge you duty when you check out. If this is true, this may be a deal you want to shop in store for, unless you find an absolutely fabulous deal in this sale or the clearance section. Thus I have included the store locator.