50% Off All Women's Clothing @ Mango.com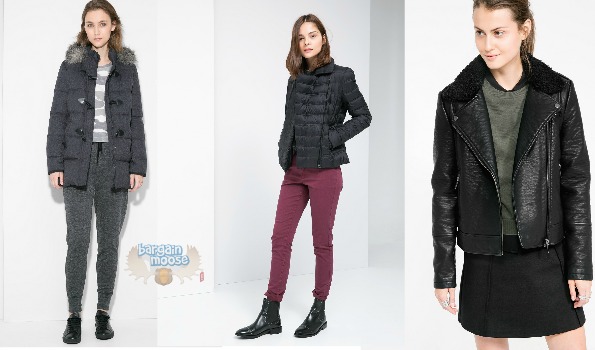 Mango is having a site wide sale with 50% off everything for women. This sale includes jackets from $50- $100, purses, jeans, pants and much more. The only exclusion is new arrivals in this sale. Spend $100 and you will qualify for free shipping.
The weather is still wicked cold here and my old trusty jacket does not seem to cut the wind these days. I always seem to wait a long time before purchasing a new jacket, as I am fussy about style. Your jacket gets a lot of use in Canada so I want to make sure any jackets I purchase has style for all different occasions, as well as durability for the weather. My friend pointed me in the direction of Mango, a mostly Europe based boutique that has one Canadian location in Quebec. Luckily they ship all over Canada so you can get the style and deals too.
I love everything about this Foldable Feather Down Jacket, which was $109.95 now only $54.95. If you are a traveler, this is a great jacket to keep with you. Lightweight and durable, this jacket folds into a small pouch that easily slides into your carry on as you travel between different climates. I also love that it has an asymmetrical zipper, is water repellant and has those cool notched lapels. This one unfortunately only comes in a size small, which will not fit me. You may be able to hear my tears through the computer, as I really like this jacket. If it fits you, it may be your lucky day. You can also check out this Foldable Water Repellent Jacket, which was $129.95 now $59.95, if you are a traveler looking for a packable coat. It comes with a hood and has larger size range available.
I like this Feather Long Down Coat, which was $209.95 now $99.95. This three-toggle button jacket filled with soft fluffy down to keep you warm as it also has zips and snaps to ensure that coat stays closed. It includes a detachable hood with a faux fur edge. I prefer a coat with a hood so if I get stuck on a windy day without a hat, I can pull it up. This coat seems durable and stylish. It should also slip easily between casual and dressier events.
Grab a little more edge for your style with this Faux Shearling Biker Jacket,  which was $129.95 now $59.95. This jacket has spotty sizing also coming in size extra small or large. This jacket has lots of style and includes a faux fur neck with snap buttons. I love the asymmetrical zipper on this coat also. It gives this jacket a little something extra. This jacket is made of synthetic materials but looks very high quality. I would have assumed it was leather without reading the description.
There are lots of other items on sale at Mango, so make sure you poke around. I see some great handbags for $50 that could do double duty for spring, as well as slim cut jeans for around $25 if you are looking for other items to top off your cart. Kids, men's and curve items are also on sale 30% off throughout the site except new arrivals.
Free shipping is available for a $100 purchase or more. If you purchase a few items, you should easily achieve free shipping. Mango also offers free returns if you are debating whether to take the plunge with this company. My friend also assures me she has never been charged duty with this company even though most of the retail locations are out of Europe.
I was skeptical so I called to verify and the customer service rep said there is no additional duty taxes upon arrival. There is still a chance there could be additional fees at the door as they are shipping from their warehouses in the US and Barcelona, Spain. I would take my chances after confirming for these fab jackets, but the choice is yours to make.  The rep also said that their is a flat rate $10 shipping fee for most orders under $100 within Canada, with the exclusions being remote locations. I tested it out in my cart with a fab pair of pants and had success with receiving $10 shipping all the way up to purchase point.
Bargainmoosers what kind of style are you looking for in your jackets?
(Expiry: unknown)